June 26th, 2009 by katie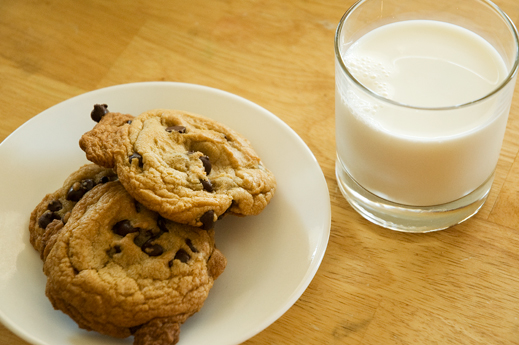 I will leave you for the weekend with a simple chocolate chip cookie recipe.  Although it's not that simple because these were some of the best chocolate chip cookies we've had-declared by all to be "a keeper."  It started out simply enough.  My kids wanted to make cookies and although I wanted to make cranberry, pistachio, white chocolate chip oatmeal cookies, they weren't having it.  So we settled on the classic.  I have an old standby but decided to try a new recipe.  I turned to Bridget's chocolate chip cookie comparison for advice.  Bridget is a much more seasoned (and brave!) baker than I and her site The Way the Cookie Crumbles is full of these comparisons-cakes, cookies, brownies, you name it!  Since I am too afraid of failure to experiment, and too ignorant of the nuances of baking to understand my results (other then tasty or less tasty), I rely on Bridget.  She said Alton Brown's The Chewy was her favorite and so that's what I made.
These really were fantastic chocolate chip cookies.  They were sweet and buttery with just enough chocolate and a hint of salt.  They had all the right textural layers, from crunchy to chewy to soft.  Luckily the recipe only makes about 18 large cookies.  They require slightly more work than my typical cookie recipe because the butter is melted before creaming it with the sugar and the dough needs to be chilled before you can actually make the cookies.  My kids couldn't quite figure this out.  They kept asking where the cookies were and looking confused when I told them "in the refrigerator."  Otherwise, it's the pretty standard cookie process.
I did things a little different this time in that I actually followed the recipe which means I used unsalted butter and bread flour because I had them.  Normally I would have ignored these specifications and they probably would have been fine.  I really liked the hints of salt from the kosher salt so I would probably try to use unsalted butter again but the bread flour part-I can't promise.
The Chewy
makes 18 large cookies, prep 10 min plus time to chill, cook 36 min, adapted from Alton Brown
2 sticks unsalted butter
2 1/4 cups bread flour
1 tsp kosher salt
1 tsp baking soda
1/4 cup white sugar
1 1/4 cup brown sugar
1 egg
1 egg yolk
2 tbsp milk
1 1/2 tsp vanilla extract
2 cups semi-sweet chocolate chips
Melt butter, add to mixing bowl.
In another bowl combine flour, salt and baking soda.
Add sugars to mixing bowl with butter.  Cream butter and sugar on medium speed.
While mixing on medium speed, add eggs, milk, and vanilla.
Slowly add in flour until well incorporated.
Stir in chocolate chips.
Chill dough until firm enough to scoop. I originally chilled until the dough was cold, about 2 hours.  I have also chilled the dough just long enough to heat the oven, see update below.
Preheat oven to 375° F.
Grease your cookie sheets or line them with parchment paper. I used a Silpat so I can't comment on which is better.
Place cookies evenly on baking sheet, giving them room to spread.
Bake each sheet 8-12 minutes or until golden and puffy.  The recipe says 14 minutes but my first tray was done at 12 and my second tray was done in 10 (smaller cookies were done in 8 minutes).  Although I slightly under bake my chocolate chip cookies so the centers are still a little gooey.
A few things you don't want to hear: I think the texture of this cookie probably changes dramatically depending on both the size of the cookies and the amount of time you let the dough chill.  The warmer the dough the more the cookies will spread.  I chilled my dough until it was cold and used a large cookie scoop meaning my cookies were thick and didn't spread as much.  The result being they were not nearly as chewy as they were melt-in-your mouth.  Next time I will try smaller cookies and try not chilling the dough so long just to see the difference.
Update: This time I made smaller cookies and only chilled the dough long enough for the oven to preheat. The cookies were thinner and definitely chewier.  The flavor was the same and I got about double the yield.  I didn't have any trouble with the cookies spreading too much, so feel free to chill for a shorter period of time if you are having a cookie emergency.

Posted in Desserts, Easy, Snacks/Appetizers