August 24th, 2009 by katie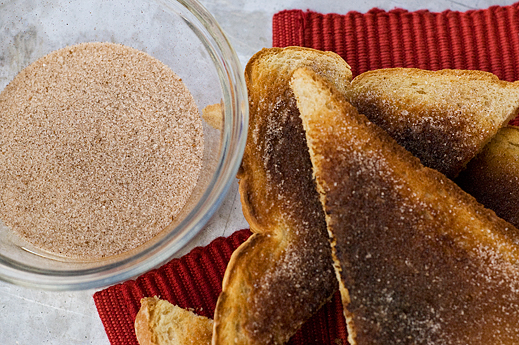 I keep a large jar of cinnamon sugar in the pantry.  It is nice to have on hand for sprinkling on toast, hot chocolate, popcorn, or pita chips, or for making s'more-dillas, cinnamon rolls, or mixing into whipped butter.  Here is the ratio we use:
Cinnamon Sugar Mix
makes 2 2/3 cups
2 cups sugar
2/3 cup cinnamon
1/4 tsp nutmeg, or more to taste
1/4 tsp kosher salt
Combine in jar with a lid.  Mix well.
I suggest buying your cinnamon in bulk if you can.  It will save you quite a bit and this amount lasts a long time in the pantry.
If you only want to mix up a few servings the ratio is 4 tsp cinnamon for every 1/4 cup sugar.

Posted in Breakfast, Condiments, Desserts, Easy, Fast