October 24th, 2008 by katie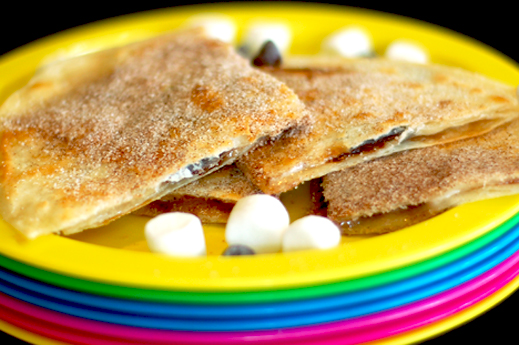 I have never been the biggest graham cracker fan. Even when making s'mores by the fire, I usually just roast my marshmallow and eat the chocolate separately. So when I feel like s'mores, I turn to these instead. What could be better than warm, melted chocolate and marshmallows tucked between buttery, toasted flour tortillas-fried and dusted with cinnamon sugar? Certainly not a cold, dry graham cracker. Make any night a fiesta by whipping these up for dessert!
S'more-dillas
makes 4 wedges, prep 2 min, cook time 10 min, adapted from
Recipezaar
(fellow blogger Kristen from
Dine and Dish
)
2 flour tortillas
softened butter
chocolate chips
mini marshmallows
cinnamon sugar
Butter one side of each tortilla.
Place one tortilla, butter side down, on a medium hot frying pan or griddle. Sprinkle lightly with chocolate chips and mini marshmallows. Cover with second tortilla, butter side up.
Allow tortilla to cook until lightly browned, then flip.
Sprinkle with cinnamon sugar and cook until filling is melted and bottom tortilla is browned.
Remove to a cutting board and cut into wedges with a pizza wheel.

Posted in Desserts, Easy, Fast, Snacks/Appetizers