July 2nd, 2008 by katie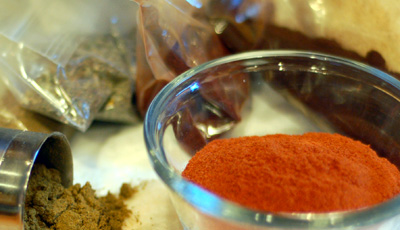 When I moved out of my mother's house she let me take whatever I wanted from her pantry. This included her spice cabinet which contained bottles and tins I could remember from childhood. When a spice was so old that it had solidified in the jar, I simply used a butter knife to break it up again. I remember, at one point, buying a huge warehouse sized jar of garlic powder, thinking what a great deal I was getting. Three years later, we've used about 1/3 of the jar. And, of course, any time a recipe calls for some obscure spice I haven't stocked up on at the warehouse store I am forced to buy a teensy bottle of it at the grocery store for an outrageous price. If this sounds like you too, then we both have a problem. Primarily that our spices are so old we're essentially adding dust to our food. Secondly, that we totally overpaid on all those bottles and jars.
Bulk spice bins are a dream come true for foodies on a limited budget. I can buy the exact measurement I need: 2 tbsp marjoram-a spice I am guaranteed to only need about once or twice every 5 years. Not only am I not cluttering my cabinet up with a full bottle of wasted marjoram that I paid a premium for, but I can purchase my light as a feather plastic baggie of spice for a few cents. I am saving money but, just as importantly, I am always ensuring my spices are as fresh as possible. Occasionally, the price per ounce of bulk spices slightly exceeds the price per ounce of the bottled spices, but I've generally only found this to be true on huge amounts, or on mega-generic brands. In this case, since I am only purchasing what I actually need-a fraction of an ounce-I am still saving money by not paying for spice I will wind up wasting. If you are pretty bottle buyer-and admit it: you are-then you are really getting screwed. So keep your pretty bottles, and refill them with your fresh bulk spices as needed.
The best places to find bulk spices: high-end groceries, farmer's markets, ethnic groceries, and spice companies (like Penzey's). Try to find actual brick and mortar spice stores rather than purchasing online since you'll lose some of your savings to shipping costs. If you know of any good places to find bulk spices in your area leave it in the comments-remember there are different stores in different areas of the country. If you can't find the bulk spice bins, your next best bet is the bottle-less spices, usually found in cellophane packets.

Posted in Budget, Tips and Tricks