August 7th, 2009 by katie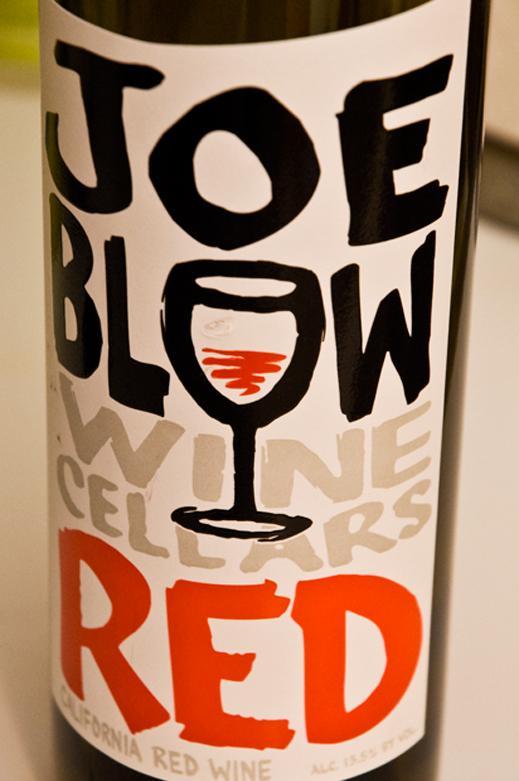 Some wines are hard for me to enjoy.  On their own they can be too lackluster-Merlot or Pinots-or too overwhelming-like many Syrahs, to my taste.  What is mediocre alone, however, becomes deliciously complex when combined.  Some of my favorite wines are blends.  Lucky for me, blends are the scruffy mutts of the wine world, often suffering the degradation of the cheap aisle. While I usually prefer simple combinations of two or maybe three wines, Joe Blow Red is a hodge podge of Syrah, Petite Syrah, Merlot, Zinfandel, and Cabernet Sauvignon.  Which works for it.  The bold, spicy wines are tempered by the softer, fruitier grapes.  This wine was fruity and smooth, with just enough acid to keep it interesting.  It is easy to drink, not syrupy sweet, and at $7 a bottle worth another buy.
If you are new around here you may not be familiar with the Beyond Merlot series.  The last post I wrote for it was in October last year.  It didn't seem very popular and then the recession started to make itself felt around here.  I just didn't think much about writing about wine.  Not that we aren't enjoying a glass of wine these days, only our choices have been limited to the under $10 a bottle area of the store.
So how do you feel about Beyond Merlot?  Are you interested in wine recommendations from the cheap aisle?  Are you interested in wine at all?

Posted in Wine