January 18th, 2009 by katie
Has enough time sufficiently passed from New Year's to post a dessert recipe?  Because the only thing I feel like eating lately is this.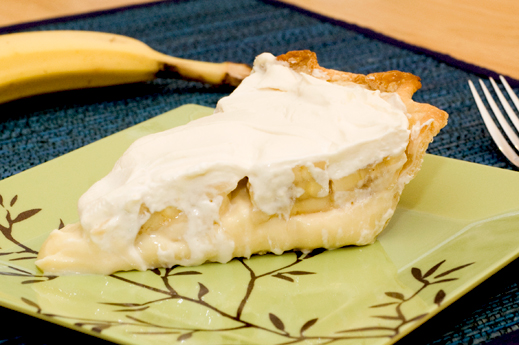 Why is it that the most delicious foods are the hardest to photograph? This Cream Pie Recipe is amazing! It is rich and velvety, sweet and thick, and it can be adapted to make a Coconut Cream Pie, Banana Cream Pie, Chocolate Pie, or any other combination of pudding and pie you like. My grandfather's wife, Sunny, shared this recipe with me after we had her wonderful Coconut Pie on vacation.
The picture above of some glop on top of some gloop is the best Banana Cream Pie you'll ever have. Don't want pie? Just make Banana Pudding. Don't want Banana? Make it with Coconut or Chocolate or even just Vanilla. I love these old fashioned pudding pies because they are so delicious and rich. This recipe, like my lemon pie, is made entirely in one pot without having to temper the eggs so it is perfect for a beginner.
Old-fashioned Cream Pie
prep 5 min, cook time 20-30 min, chill overnight
1 1/2 cups sugar
3 tbsp flour
3 egg yolks
2 1/2 cups milk or half and half
1/4 cup (1/2 stick) butter or margarine
2 tsp vanilla
pie shell, baked
For a vanilla pudding base: mix all ingredients, except vanilla, in a sauce pan.
Stir well and cook over medium heat, stirring constantly, until mixture thickens. This took almost 30 minutes for me.
Remove from heat and stir in vanilla.
Pour into prepared pie crust. Top with whipped cream or meringue. Chill overnight.
Banana Cream Pie
Cream Pie base
3 bananas, sliced (toss with 1 tsp lemon juice if desired)
1 cup whipping cream
1/4 cup sugar
Top pudding base with sliced bananas.
Whip cream and sugar, cover bananas.
Chill overnight.
Chocolate Pie
Here is the chocolate pie variation that came with the recipe but I prefer this chocolate pie filling.
Cream Pie base
3 tbsp cocoa powder
Add cocoa powder to flour mixture before heating.
Continue as for cream pie base.
Coconut Pie
Cream Pie base
3/4 cup coconut
reduce sugar by 1/4 cup
Add coconut to flour mixture before heating.
Reduce the sugar if using sweetened dried coconut.
Continue as for cream pie base.
Call it comfort food, but the only thing I have been craving lately is a big, thick bowl of the vanilla pudding base from this recipe.  I could eat it forever, at least that's how I feel right now.  I had to throw half of this pie away because I was eating it for breakfast, lunch, and dinner.  You know, just a spoonful here and there easily adds up to half a pie by the end of the day.