December 13th, 2008 by katie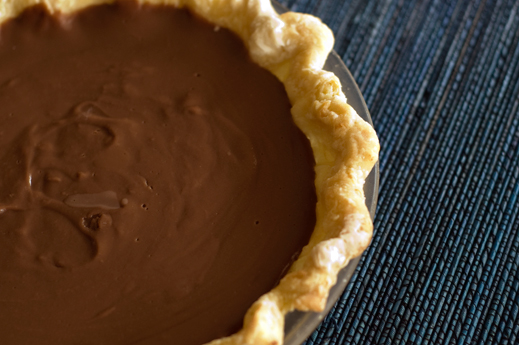 This was my first year making chocolate pie and how I wish I had known sooner. I wish I had known how rich and luxurious it would be. That it would be creamy and thick and that, topped with light and fluffy whipped cream, it would feel silky and delicate in my mouth. The chocolate pudding in this pie is delicious and surprisingly easy to make. Thank you to Jan for sharing her family recipe with me. It was absolutely wonderful and I will be making it every year from now on.
Gundy's Chocolate Pie
prep 5 min, cook 15 min
1 pie shell prepared and baked
2 cups milk, any (I used 1%)
3 egg yolks, beaten
3/4 cup sugar
1/4 tsp salt
5 tbsp flour
3 tbsp cocoa
2 tbsp butter, chopped
1 tsp vanilla
Combine milk, egg yolks, sugar, salt, flour, and cocoa in a cold saucepan.  Stir thoroughly to combine.
Turn heat to medium, stir constantly until thick but do not boil.
Once thick, remove from heat, stir in butter and vanilla.
Let mixture cool slightly and pour into baked pie shell. Chill.
This is how Kelly likes it, of course-straight chocolate. I, however, like it topped with fresh, just barely sweet, velvety whipped cream.
This combination of thick chocolate pudding and light airy whipped cream would also be delicious layered in custard cups or parfait glasses-no pie crust needed.  For tips on making this just as pudding-here.