March 15th, 2009 by katie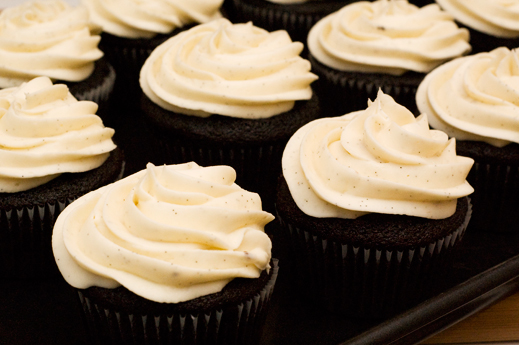 Wow.  Have you ever made something so good you even impressed yourself?  Like, "Wow I can't believe how good this is, it's even better than I thought it would be-and I knew it would be great!"  That's how I feel about this frosting.  Of course it helps that my super favorite chocolate stout cupcakes are underneath.  Talk about a fantastic flavor combination.  This is just my usual cream cheese frosting ramped up with the addition of the innards of a vanilla bean.  By the way, this is not a recession post but I bought my vanilla beans at Costco-and nobody died.
Vanilla Bean Cream Cheese Frosting
24 cupcakes, prep 10 min
8 oz cream cheese, room temp
8 tbsp unsalted butter, room temp
1 tsp vanilla extract
1 vanilla bean pod
3-4 cups powdered sugar
Slit your vanilla bean in half and use the tip of your knife to scrape the vanilla bean paste from each side of the pod.
Whip cream cheese in a mixing bowl until smooth.
Add butter and beat to combine.
Add vanilla and vanilla bean paste.
Beat in powdered sugar a little at a time until frosting is as thick and sweet as you'd like.
Normally I don't quibble about salted vs. unsalted butter but in frosting it does make a significant taste difference since the butter is a major player.  Also, I use this tip
to frost my cupcakes and it couldn't be easier to have pretty cupcakes.  It may seem silly to get out your decorating tips just to cover some cupcakes but let me tell you, pipping thick swirls of frosting onto the cupcakes is waaaay easier and prettier than trying to cover them with a spatula or butter knife.  Also the great part about this tip is you don't even need a coupler or decorating bags, just the tip and a ziplock bag with a corner snipped off-high class!