November 9th, 2008 by katie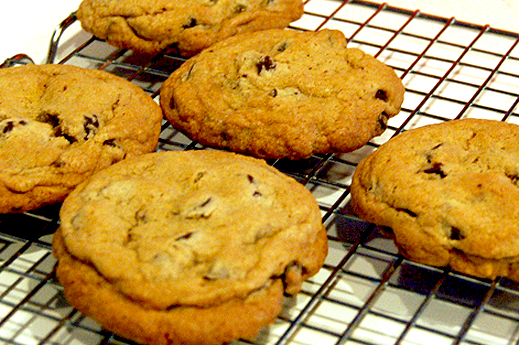 I love to have fresh baked cookies as an easy dessert or a special lunch box snack. Frankly, I totally heart refrigerated Pillsbury cookie dough not only for its classic chocolate chip cookie taste but for its ease and portion control. The one thing that keeps me from baking cookies all of the time is a recipe that make dozens and dozens of cookies. While they are great for the holidays or bake sales, I can't stand baking multiple sheets of cookies. Maybe it's adult onset ADD but after the first tray goes in the oven I lose all interest in the project. Plus having dozens and dozens of cookies around usually results in having a cookie for dessert, a cookie for a snack, a cookie for breakfast or three…
I like this basic cookie recipe. It makes "just enough," one dozen or one baking sheet's worth of cookies. They cookies are sweet, salty and chewy and are best when slightly under-baked (aren't all cookies?).
Just Enough Chocolate Chip Cookies
makes 1 dozen, prep 5 min, cook 12 min
1/2 cup butter
3/4 cup brown sugar
1 egg
1/2 tsp vanilla
1 1/4 cup flour
1/2 tsp baking soda
1/4 tsp large flake salt, kosher or sea salt
1 cup chocolate chips, whatever you like
Cream butter and sugar, thoroughly mix in egg and vanilla.
Stir in flour, baking soda and salt.
Stir in chocolate chips.
Chill dough.
Heat oven to 350°F.
Scoop dough and place walnut sized balls evenly on a baking sheet.
Bake 10-12 minutes or until lightly browned and slightly under baked.
Allow cookies to cool on baking sheet 1-2 minutes then remove to a rack.