September 7th, 2008 by katie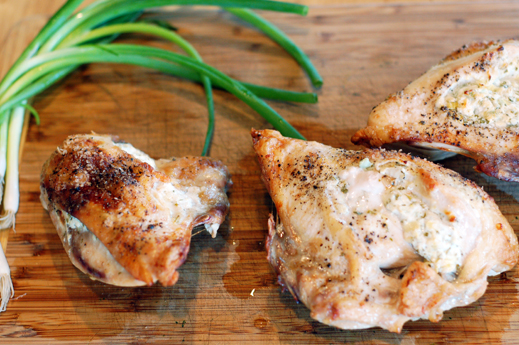 The weather the other morning could almost have been described as pleasant. Which was a wonderful change from melt-your-face-off hot and sticky. It seemed like maybe, just maybe, fall was in the air and the urge to cook something started to creep in. I had several skin-on bone-in chicken breasts in the freezer I wanted to use up, so I decided using the oven wouldn't kill me.
I don't normally buy this cut so I didn't have a recipe in mind for them. Not a problem, I did a quick food blog search for "chicken breasts" and this one caught my eye. Apartment Therapy: The Kitchn is such a beautiful site and I knew the combination of goat cheese and garlic would be a winner at our house. It turned out to be a great choice. They were flavorful and easy to put together. The chicken breasts were juicy and moist and the creamy, tangy goat cheese made this healthy dish seem rich and indulgent. Mine didn't look nearly as pretty as theirs but we all enjoyed them-even the kids.
I subbed green onions and garlic for the green garlic in the recipe and cilantro for the parsley because that's what I had on hand. It was a great meal with rice-a-roni and steamed broccoli. I made the rice while the chicken was baking and steamed the broccoli five minutes before it was time to eat. It was nice to sit around the dinner table on a hectic school night and relax and enjoy each other's company.
This week we're on vacation, but I'll be checking in periodically to see your comments and maybe post a few pictures. Have a great week!

Posted in Pantry Challenge