September 30th, 2008 by katie
Check out my second attempt here! 
So I was only kind of exaggerating when I suggested making my own condiments. I mean I already make my own butter. Ok, so I don't actually make the butter, but I could. I have always liked the idea of making my own condiments because 1) I think it's healthier and 2) I can make them taste the way we like. Plus, I want my kids to understand what's in the food they eat. I'm not the biggest hippie on the block but something about the ingredients not in mayonnaise declaration on the mayonnaise jar creeps me out.
I am of the generation that has always had a plethora of prepared condiments at our disposal. Ketchup bottles and Kraft salad dressings emerged whole on the seventh day and the only way to get them was to buy them from a store. One day, when I realized I liked cooking food with taste and that didn't come from a box or a plastic tray, I started experimenting with mango ketchup and wasabi mayo. First ingredients? Ketchup. Mayonnaise. It took a long time for my brain to bridge the gap between understanding that these ingredient had ingredients and a recipe and somewhere out there someone knew how to make them from tomato sauce and eggs and oil. Ever since I have had a secret crush on making my own from scratch condiments. So watch out ketchup: I've got my eye on you.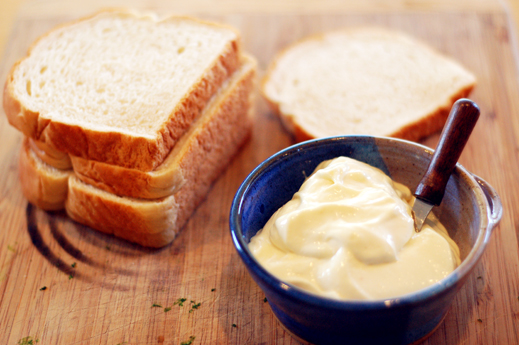 My first foray into condiment making was mayonnaise. I really struggled with whether or not to post the recipe because I didn't like the way it turned out. I am posting the recipe, though, with the hopes that all of you foodies can help me figure it out because I really, really want to be successful. I want to use it as a base for sauces and casseroles. I want to slather it on a delicately constructed ham sandwich and be instantly transported to a cafe in France. I refuse to believe that my tastes have been so homogenized by processed food that I no longer enjoy the real thing when I taste it.
Here's the recipe and the problem:
Blender Mayonnaise
makes 1 1/2 cups, from the
Joy of Cooking
1 egg
1 tsp dry mustard
1 tsp salt
dash red pepper
1 tsp sugar
1 1/4 cup oil, divided
3 tbsp lemon juice
Combine the first 5 ingredients and 1/4 cup oil in the blender. Blend on high until combined.
With the blender running add 1/2 cup oil, then lemon juice.
Continue by slowly adding the last 1/2 cup oil. Blend until thick.
Yeah, so I cheated a little. I picked the blender recipe because while I like making things from scratch, I also like being successful and not flipping out over a recipe and I get busy. The blender recipe went great, it emulsified just fine and was easy and quick-important factors in whether I ever bother making it again. The problem: it was too tangy. I mean really tangy-unpleasantly tangy. Maybe I'm just not a huge mayo fan to begin with; I like a nice thin smear of it and I use it when called for in recipes-but's that's it. I'm not trying to eat it with chips or off a spoon or anything.
The question that follows is this: am I so accustomed to store-bought mayo that tastes like nothing, that I don't recognize real mayonnaise for what it is? Or can I just adjust the recipe? Is that what mayonnaise tastes like and I just need to get used to it? Does anyone have a suggestion or a better recipe?
I might try this recipe from Wasabi Bratwurst next time since it says it can be made in the blender. -Katie

Posted in Condiments