September 11th, 2008 by katie
Trying to find enough hours in the day to clean-up after a family of five is a job in itself. Any little tricks that streamline that effort, then, can be the difference between basic tidiness and full blown slovenliness. One of the organizational tips I have heard over the years is to keep cleaning equipment near the corresponding area. For example, keeping bathroom cleaning supplies in the bathroom. This makes it easy to just grab a sponge and scrub away while brushing teeth or supervising a toddler in the tub. Following that train of thought, dish soap should be kept within easy reach next to the sink.
And oh, I'm so very embarrassed. I really really really wish I didn't have to show you this, but I do. I have to show this to you because I want to share a neat trick with you. It just isn't the same unless you get the full picture. Those of you with large families will hopefully understand that no amount of preparing or cleaning-as-you-go prevents the kitchen sink from looking like this exactly 10 minutes after any meal. Really, it's not that we're slovenly. Really.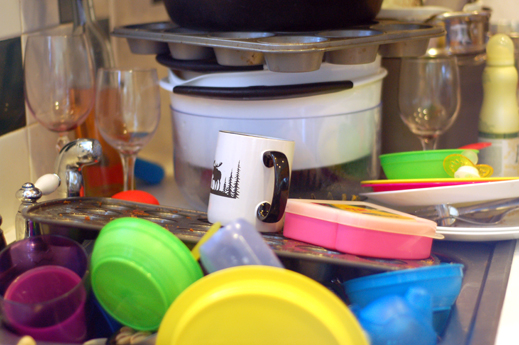 The reason I show this to you is because you may look at the picture and say, "Poor girl. She doesn't even have any dish soap on hand to take care of that huge mess." You would be wrong. In fact, I keep my dish soap on the counter next to the sink at all times-can you see it? I'd like to say it helps get the dishes cleaned a little faster, but I can't honestly say that. Although if I had to actually bend down and retrieve my dish soap from a cabinet, well, let's just say I would have to start buying paper plates. What it does do, however, is make my dish soap blend in with my um, decor and besides looking pretty it is also convenient. I give you the dish soap drizzle: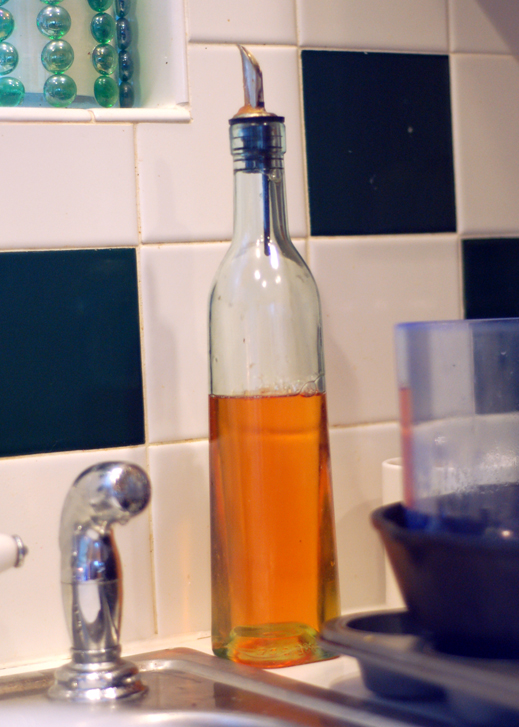 Don't mind the dirty back splash. Admire the cleverly hidden-in-plain-sight dish soap. I think I saw someone do this on TV once and I was just amazed. Not only is it cute but functional. The oil spout only allows a drizzle of soap at a time, preventing me from wasting dish soap like mad, and it looks rather pretty sitting in a kitchen window. One important tip! Do not mix up your soap and oil bottles. You would be amazed how hard it is to tell the difference between citrus yellow dish soap and extra-virgin olive oil.

Posted in Tips and Tricks