November 29th, 2008 by katie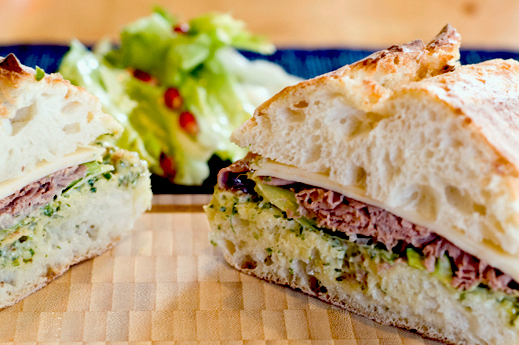 So Thanksgiving is over in the US and I know you are already sick of turkey stuffing mashed potatoes, bizarre leftover recipes, and pumpkin pie. Great, me too. I will be posting my pie recipes in the next few weeks, but I'll try to space them out a little.
As a diversion from all that heavy T-day food I made some roast beef sandwiches on ciabatta with a little pesto mayonnaise. I have been trying to keep my herbs alive by pruning them frequently, however I never know what to do with the small handful of leaves I take off. It's too little to make a huge batch of pesto but too much to just throw away. Today, I simply finely minced the leaves with a garlic clove and a couple of pecans then drizzled it with olive oil and sprinkled over a little parmesan cheese. Mixed together in a small bowl, it was the perfect single-serving pesto.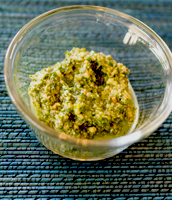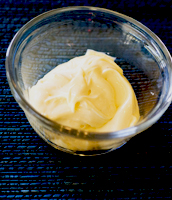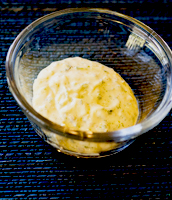 I also figured it was as good a time as any to try my hand at homemade mayo again. It turned out much, much better this time and I can finally feel mayo success. I stirred in the pesto and viola!-a fresh flavorful spread for my post-holiday sandwich. I used the mayo recipe over at Wasabi Bratwurst as well as Frank's tips from the comments and I really liked the result this time. I think I will probably continue tinkering with adding different spices but this is a great basic mayo base.
Fresh Mayonnaise
makes about 1 cup, prep 5 min, adapted from Wasabi Bratwurst
2 egg yolks
1 tbsp rice wine vinegar
1/4 tsp brown sugar
1 tsp salt
1 cup olive oil
Add all ingredients to a blender except oil.
Pulse to combine ingredients, then slowly dribble in oil while blender is running.
Thanks for the little break. It was really nice to enjoy the holiday without feeling chained to the computer. This blog is something I enjoy so much that I was surprised at how refreshing it felt to be completely unplugged for a few days. I am itching to get back to it now, however, so here we go!

Posted in Condiments