November 23rd, 2008 by katie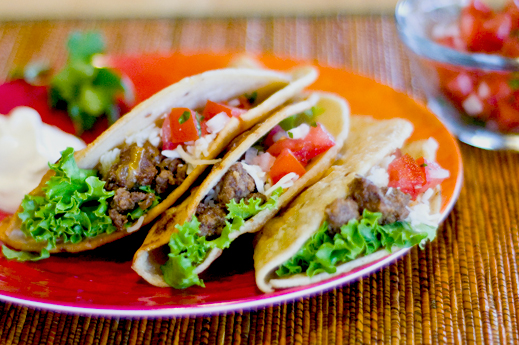 Yesterday, I told you to make extra taco meat for a quick enchilada dinner another night, but it also works in reverse. Anytime you are making enchiladas, make extra meat and have tacos the next night. We generally eat our tacos in soft, warm flour tortillas. Those hard, cold corn taco shells that come in a box at the grocery store were always the most disappointing part of taco night as a kid. They were too hard to stuff, they cracked and fell apart, and they tasted like cardboard.   Making homemade taco shells is a fun, tasty way to get your crunchy taco on. The homemade crunchy shells are crunchy but they are also warm and chewy: a world away from their boxed counterpart.
Soft corn tortillas are a huge pain to work with. Handle them gently at first and know that it takes a few tries to get the hang of it. Never fear, once you figure it out it is not hard at all. Just be sure you have plenty of extra the first time you make them!
Crunchy Taco Shells
takes about 2 minutes per shell
soft corn tortillas
hot oil for frying
In a frying pan heat enough oil to cover a tortilla.
Using tongs, gently lift a corn tortilla and place half the tortilla in the hot oil. The oil should be hot enough to immediately start turning the tortilla golden. If it isn't hot enough the tortilla will melt and break.
Once the bottom half is getting brown and puffy in spots (it won't be long!), let go of the top with the tongs allowing it to fold closed. Flip the tortilla so the top is now frying and hold the already fried half above the oil in the typical taco shell form.
Once the bottom is fried, gently place your shell over a stack of paper towels like an A to drain while you make the next shell.
Don't freak out if your tortillas tear or crack a little, the frying process really helps them keep their shape even with a few cracks.

Posted in Condiments, Fast