May 29th, 2013 by katie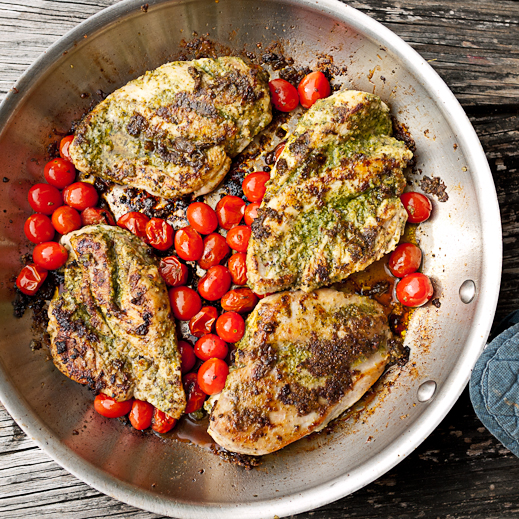 It's summer!  Finally the season has arrived for strawberry salads and garden tomatoes, cool soups and no-cook meals, and sandwiches for dinner and peach pie and cherry pie and watermelon.  Every summer I plunge into gardening with such enthusiamsm that I typically kill off everything I have planted within a few weeks.  Apparently vegetables don't appreciate my particular style of helicopter parenting.  Basil is especially challenging because I want to pick and prune a little here and few leaves there until the poor thing is one tall nude stem.  This summer I have practiced much restraint and so far have been rewarded with a big bushy basil plant that I have not killed yet.    
I received a new food processor
for my birthday and to celebrate both my bushy basil and my new kitchen appliance (squee!) I made my first batch of pesto in many summers.  I like my pesto with walnuts (they're cheaper than pine nuts and I can toss the extras on a salad) but feel free to use pine nuts if you are a purist. 
Basic Basil Pesto
makes approximately 2 1/2 cups, prep 5 min
2 cups basil leaves
1/3 cup walnuts
3 garlic cloves or pine nuts
1/2 cup Parmesan cheese
1/2-1 cup olive oil
salt and pepper
Combine basil, nuts, and garlic cloves in a food processor or blender.  Pulse to chop finely. 
Add cheese and 1/2 cup of olive oil.  Process or blend until ingredients combine into a smooth paste.
Scrape pesto into a bowl and taste.  Stir in salt and pepper to taste.
Slowly add additional olive oil a little at a time and stir to loosen pesto to desired consistency.
Taste and salt and pepper again if needed.
Once you have your pesto you'll need something to do with it (besides smearing it all over a piece of crusty bread).  Here is a super quick and rich way to ramp up some boring sauteed chicken breasts.
Pesto Chicken Breasts
serves 6-8, prep 5 min, cook 15 min
4 chicken breasts
1/2 cup pesto
zest of one lemon
salt and pepper
2 tbsp oil
1 pint cherry tomatoes
Slash and flatten chicken breasts a bit and lay out on a cutting board.  Rub pesto all over both sides of each breast.  Sprinkle lemon zest, salt, and pepper over both sides of each breast.
Meanwhile heat a skillet over medium heat.  Add oil and heat until shimmering.
Add breasts to hot oil and add tomatoes around the breasts. 
Fry breasts without turning for about 5 minutes checking and lowering the heat if necessary to be sure they don't burn.  Flip breasts and fry again for about 5 minutes.  Be sure to nestle breasts into tomatoes so that they have good contact with the pan.  Check for doneness buy slicing one breast at the thickest part.  You made need to continuing cooking for a few more minutes depending on the size of the breasts. 

Posted in Condiments, Easy, Fast, Main Dish