July 12th, 2010 by katie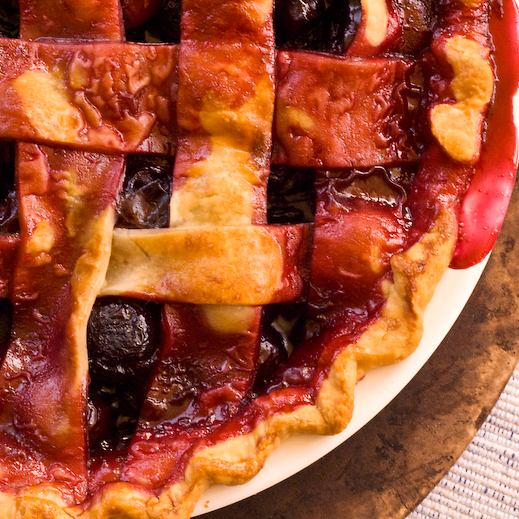 Canned cherry pie filling is a no good dirty liar.  It promises cherries and sweet cherry syrup.  It screams "Pie is hard!  Pick me instead!"  Canned cherry pie filling should be forced to apologize.  It should have its nose rubbed in itself.  Because what you get isn't cherries and syrup.  Instead you get cherries, water, high fructose corn syrup, more corn syrup, and Red 40.  Yum!
If I had known it was this easy to make a fresh cherry pie I would have been making them for years.  And the flavor!  Fresh cherries, tossed with real sugar and a little lemon then cooked to bubbling inside a pastry crust is so far removed from the thick tasteless junk in the can that you can't even call them by the same name. 
Cherry Pie
makes 1 pie, prep 20 min (or as fast as you can pit 2 lbs of cherries), cook 50 min
2 pie crusts
2 lb sweet cherries, pitted
2 tbsp lemon juice (1 lemon)
1/2 cup sugar
2 tbsp cornstarch
1 egg, beaten
sugar (coarse if you have it)
Preheat oven to 400°F, roll out bottom crust and press into pie pan.
In a bowl, toss together cherries, lemon juice, sugar, and cornstarch.
Pour cherry mixture into bottom crust.  Roll out top crust and top pie with full or lattice top.  If using a full crust cut some slits for steam.
Brush crust with beaten egg, sprinkle all over with sugar.
Place pie in the oven over a foil-lined cookie sheet (in case of spill-over).  Bake pie for about 20 minutes and check for brown-ness.
Once crust it starting to look golden cover loosely with foil (it will continue to brown slightly under the foil) and continue baking 20-30 minutes or until pie's juices are bubbling all over.
Remove pie from oven, remove foil, let pie cool at least 1-2 hours before cutting.
I pitted the cherries two ways: I pushed a drinking straw in one side and popped the seed out the other end and I just used my fingers to split them and remove the pit.  I thought it was easier and faster with my fingers.
For ten, long years, I have refused to top mrChaos's cheesecake with canned cherry pie filling.  Well I will tell you what an excited boy he is at the prospect of a little bit of this filling spooned over the next one.  Just combine the cherries, juice, sugar and cornstarch in a medium pot and cook until boiling.