August 12th, 2011 by katie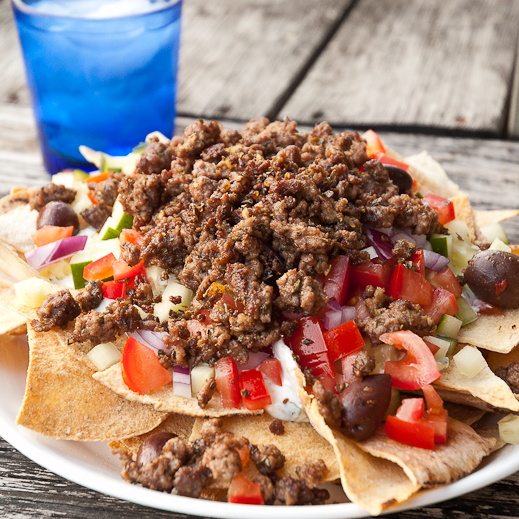 I am not sure why I never considered making Greek Nachos before.  It is a fun spin on gyros and a perfect light meal for summer.  You can make this with any meat or completely meat-less and add as much or as little of your favorite Greek toppings.  Above, I mixed the feta into the tzatziki but next time I would prefer to sprinkle a bit on top instead.  Below is a quick yogurt sauce with mint and lemon but any favorite recipe or store-brought tzatziki would work just fine.  I also show you how to make pita chips below but again store-bought would work for a quicker, no-oven version.
Greek Nachos
serves 4-6, prep 15 minutes, cook 20 minutes, adapted from
The Food Matters Cookbook
4 pitas, split and cut into wedges
oil
salt
1/2 lb ground lamb (or beef or chicken)
2 cloves garlic
2 tsp oregano
1 tsp onion powder
1 cup Greek yogurt (0% fat works fine here)
1/2 cup fresh mint
1 lemon, juice and zest
black pepper
2 tomatoes, diced
1/2 large cucumber, diced
1/4 red onion, diced
kalamata olives
4 oz feta cheese, crumbled
Heat oven to 350°F.  Place half of pita wedges on a baking sheet and brush or spray with oil.  Sprinkle with salt and bake 10 minutes or until golden and crisp.  Replace with second half of pita wedges.
Meanwhile, heat a medium skillet over medium heat.  Add ground lamb, breaking up with a wooden spoon until chunky.  Add garlic, oregano, and onion powder.  Stir to combine and continue cooking until nicely browned and crumbled.
While meat is browning, combine yogurt, mint, lemon juice and zest in a small bowl.  Add water until desired thickness.  Taste and salt (add more mint or lemon if desired). You can replace this with any favorite tzatziki (here's mine), set aside.
Arrange pita chips on a platter or individual plates.  Dress with tzatziki, tomatoes, cucumber, onion, olives, meat and feta.  Enjoy!

Posted in Easy, Fast, Main Dish, Snacks/Appetizers