August 29th, 2011 by katie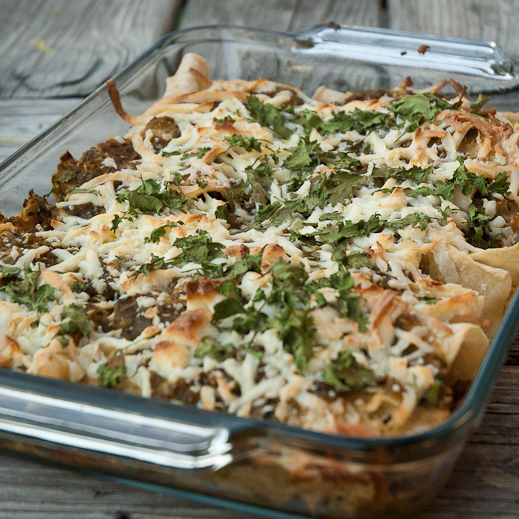 I don't usually use prepared ingredients in a recipe.  I like to make things from scratch as much as possible-to both control the quality of the ingredients as well as the cost.  However sometimes it is worth the added expense for the convenience of having a wholesome meal on the table between work and bedtime.  Any leftover cooked chicken will do in this recipe as will a store-bought rotisserie chicken if that's what's in your time budget.  Jarred green salsa also makes a great enchilada sauce (unlike canned "green enchilada sauce" which has a bunch of additives) in a pinch.  Like many tomato based sauces, jarred green salsa often has only the same tomatillos, green peppers, onions, etc that you would use if you were making it from scratch.  So check your labels and feel good about throwing together this easy, delicious convenience meal.
Easy Green Enchiladas
serves 6, prep 15 min, cook 30 min
2 (16 oz) jars green salsa
4 cups cooked, shredded chicken ( about 1 rotisserie chicken)
2 cups shredded Monterrey jack or queso fresco, divided
1 onion, minced
2 cloves garlic minced
1 bunch cilantro
12 corn tortillas, fresh or warmed
pico de gallo, for serving
sour cream, for serving
Pre-heat oven to 350°F.
In a medium saucepan, heat salsa to a simmer.  Simmer 10 minutes or until thickened and slightly reduced.
Meanwhile, saute onion and garlic until softened in a skillet over medium.
In a large bowl, combine shredded chicken, 1/2 cup of cheese, onion, garlic, and half cilantro.
Ladle enough salsa into a 13×9 casserole dish to cover the bottom.
Stuffing conservatively, stuff 12 corn tortillas with filling, placing each snugly in casserole dish.  You might have a bit of extra meat mixture.
Pour remaining salsa over the top, spreading with the back of a spoon.  Sprinkle with remaining cheese and cilantro.
Bake for about 30 minutes or until cheese is browning and tortillas are crisp in parts.