August 27th, 2010 by katie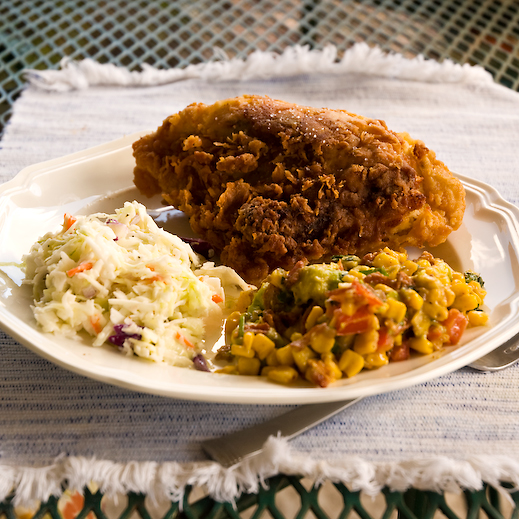 I have been making this fried chicken for my mother every year on her birthday for four years now.  I finally pulled it off.  Without a hitch.  Except I over salted it.  But still.  For those of you who are scared of fried chicken, just know: it takes practice.  You'll get it but you have to keep at it, even if it is phenomenally bad.
This fried chicken is so good.  The brine makes the meat sweet and juicy and flavorful.  The breading is crunchy and thick.  If you can just get the frying part down, you'll be a hero.  And all you have to do is practice. 
Buttermilk Fried Chicken
Serves 6, prep 10 min, cook 40 min, brine several hours before to overnight, adapted from
Fried Chicken
Brine Ingredients
1/2 cup kosher salt
1/2 cup sugar
buttermilk, cream, or milk to cover
Breading
2 cups buttermilk
2 eggs
1 tsp paprika
1 tsp hot sauce
1/2 tsp black pepper
2 tsp baking powder
1 1/2 tsp baking soda
5+ cups flour
6 skin-on, bone-in chicken breasts, or chicken pieces
solid shortening (like Crisco)
Prepare the brine by pouring about a cup of milk into a large measuring cup. Whisk in the salt and sugar until well combined. Add all of your chicken pieces to a large zip-top bag. Place the bag into a bowl to hold it upright and pour buttermilk mixture over chicken.  Top off with additional milk until all chicken is covered. Close bag and refrigerate overnight or at least six hours.
Rinse chicken breasts and blot on paper towels until dry. In a deep bowl combine all the liquid ingredients and spices, buttermilk through black pepper, and whisk to combine. In a separate dish combine baking powder and baking soda, then when ready to bread whisk into buttermilk until foamy.
Set about 4-5 cups of unseasoned flour in a shallow dish alongside the buttermilk batter.
Add solid shortening to 1 or 2 deep heavy skillets and heat until liquid.  If you overcrowd your pot your fat will cool and not cook as well so consider the size of your chicken pieces and your pot sizes.
Start by dredging your chicken completely in plain flour, shaking off any excess. Dip into buttermilk mixture until fully coated then allow excess to drip back off. Then coat again in flour and place coated breast on a rack placed over paper towels or a rimmed baking sheet to contain the floury mess.
Repeat with all chicken pieces, add fresh flour as needed.
Check your oil by dropping a chunk of battered flour into the pot. If there are no or few bubbles your oil is not hot enough. If it immediately blackens and smokes then it's too hot. If you have a candy or deep fryer thermometer the temp you want is about 325°F.
Once your batter chunk bubbles and floats and slowly turns golden, your oil is ready. Using tongs, gently lower each chicken piece into the oil. Cook approximately 10-15 minutes per side before turning.
Check cooked chicken with a meat thermometer, however don't be surprised if it gives you a wacky number, my meat thermometer never says what its supposed to. Regardless of the reported temperature, if the juices run clear when you remove the meat thermometer you are probably good.  Place on a clean rack over paper towels to drain.
Serve with coleslaw and biscuits and have someone who loves you lined up to do the dishes.  😀

Posted in Main Dish