May 5th, 2010 by katie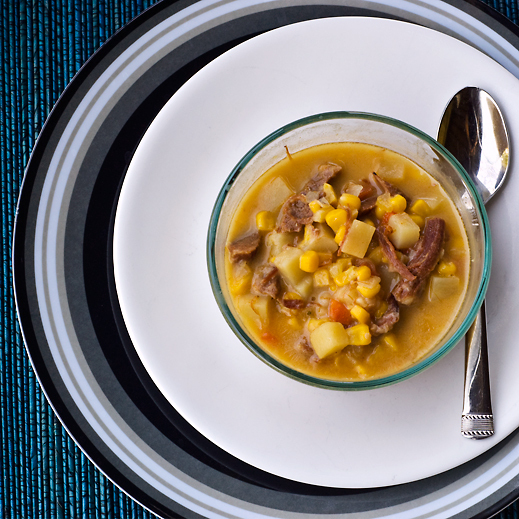 Every year I save the ham bone from our Easter ham intending to make split pea or lentil soup.  And, every year, I wind up throwing it away at some point once it becomes obvious that I am not going to do any such thing.  This year I was determined.  I put the dish on my meal plan.  I bought the ingredients.  I was going to do it.  Yet the closer the day came, the less and less excited I got, until it became a chore. Just another damn thing on my To Do list that I didn't want to do.  That's not how I want to feel about cooking, so I decided to adjust my attitude and widen my view.  Surely, there is something else one can make with a ham bone besides beans and lentils (more beans), right?  So I used my crock pot to make a velvety, righteous ham stock.
Then I made this delicious soup instead.
Ham and Corn Chowder
serves 6, prep 15 min, cook 30 min
4 tbsp butter
1/2 onion, diced
2 cloves garlic, minced
2 carrots, diced
2 celery stalks, diced
4 tbsp flour
2 cups milk
3 cups ham stock or chicken stock (or a combination of both, I used 2 cups ham stock and 1 cup chicken stock)
2 cups frozen corn kernels
2 cups chopped ham
2 cups russet potatoes, small dice (about 2 large potatoes)
salt and fresh cracked black pepper
1 tbsp hot sauce, like Frank's
smoked sweet paprika for garnish
Melt butter in a large pot over medium heat.  Saute onion, garlic, carrots, and celery until soft.
Sprinkle with flour and cook, stirring, a couple of minutes or until flour is golden.
Slowly whisk in milk and stock.  Turn down heat as necessary to keep soup at a gentle simmer.
Stir in corn, ham, and potatoes.
Simmer soup about 20 minutes, or until potatoes are tender.  Smash a few of them against the side of the pot with your spoon.
Taste soup and season with salt and pepper.
Add hot sauce to taste and serve.  Sprinkle with smoked sweet paprika if desired (oops, I forgot it for the photo).
This one of the best corn chowders I have had.  The potatoes were tender but not grainy.  The sweetness of the ham and corn were complimented by the smoky spices.  Overall it was a wonderful, hearty soup.