April 22nd, 2010 by katie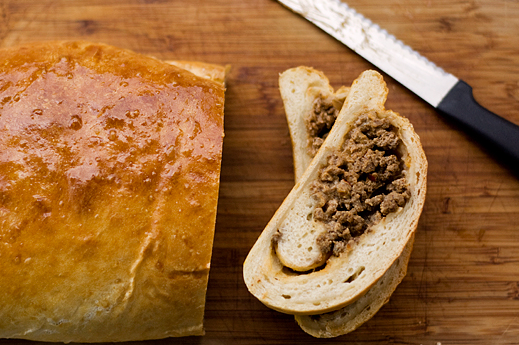 If pizza bread isn't your thing, you might want to try this one: taco bread.  Taco meat, cheddar cheese, and any other goodies you like in your tacos-sliced olives, diced green peppers, etc-all wrapped up in chewy loaf.  These stuffed loaves make great party food.  They are filling and hearty and yet totally finger food.
The procedure for taco bread (or any flavor stuffed bread) is similar to pizza bread.  Start with a one pound loaf of bread, roll it into a large rectangle, cover it with prepared taco meat and then sprinkle with cheddar cheese.  You can mix any additional toppings into the taco meat before adding it to the dough.  For example, I wanted the creamy, tangy flavor of sour cream so I stirred several spoonfuls into the taco meat before spooning it over the dough.  Canned, diced green chilies, chopped jalapenos, and sliced black olives would all be great additions.
Bake your loaf at 400°F for about 30 minutes until browned.  Allow your loaf to cool for at least 10 minutes or longer before trying to slice it open or you will loose a lot of your filling.

Posted in Snacks/Appetizers