January 27th, 2010 by katie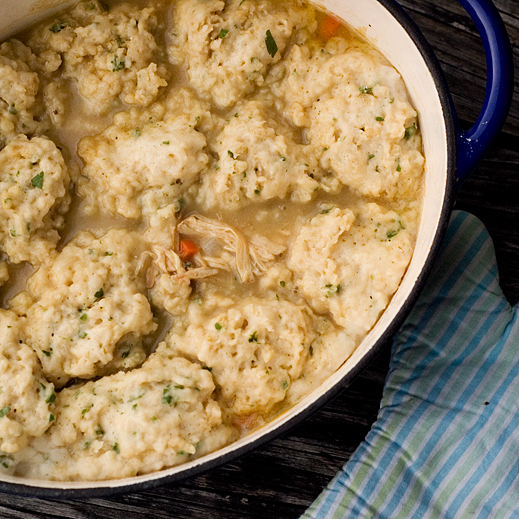 Surprisingly when I asked mrChaos if he wanted Chicken and Dumplings for dinner he thought I meant these dumplings, not the dumplings you see above.  What I actually meant was southern-style Chick'n Dumplins, but I asked and mrChaos voted for puffy dumplings over flat.  Both dishes, although very different, are delicious and comforting.  If you like big, fluffy dumplings swimming in your chicken soup this is the chicken and dumplings for you!
This dish can be made with a rotisserie chicken's worth of meat and store bought chicken stock.  For the very best flavor, though, cook a chicken covered in water in the crockpot the day before or the morning of.
Chicken and Dumplings
serves 8, prep 20 min, cook 30 min
6 tbsp butter or chicken fat
6 tbsp flour
5 cups chicken stock
2 tbsp heavy cream
4 cups cooked chicken meat
4 carrots, diced
1/2 onion, diced
4 celery stalks, diced
1 tsp chicken base
salt and pepper, to taste
2 cups flour
1 tbsp baking powder
1 tsp salt
1/4 cup fresh parsley, minced
1 cup buttermilk or milk
4 tbsp butter, melted
Melt fat in a deep, wide pot (with a lid) over medium heat.
Sprinkle with flour and cook, stirring for several minutes, until golden brown.
Add chicken stock and cream, stirring until mixture comes up to a simmer.
Add chicken and vegetables.  Add chicken base and taste broth.  Season with salt and pepper to your liking.
In a bowl, combine flour, baking powder, salt, and parsley.
Add milk and melted butter to the flour mixture and stir just until combined.
Keep chicken mixture at a simmer and use two spoons to drop portions of dough into the pot until surface of chicken mixture is covered.
Cover pot and cook without disturbing for 15 minutes.
Check dumplings with a toothpick for done-ness and serve.
  Thanks again for your comments, it is my great pleasure to bring you these recipes!