April 29th, 2009 by katie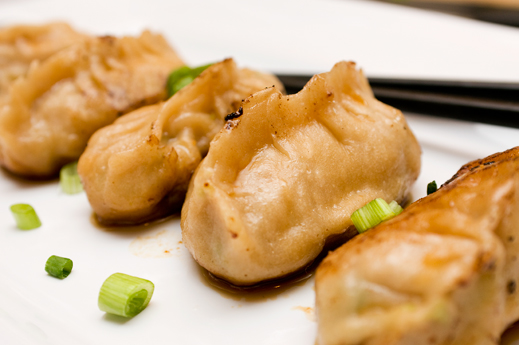 Blogging the Recession: Freezer Foods
I LOVE Dumplings.  Love them.  I always have a stash in the freezer for a quick meal. When I decided to make some myself, I went straight to the source: Jen from use real butter has an awesome recipe plus photos that make the process really easy.  I made the pork dumplings pretty much exactly to the recipe and they were delicious.  It took about three hours start to finish, and I had to make two batches of dough to have enough for all the filling, but the great thing is I got about 50 dumplings from the original recipe so I have a bunch in the freezer for another night.  This would go a lot faster using pre-made dumpling wrappers (usually near the refrigerated tofu at our grocery stores) but don't be afraid to make them yourself, it was a lot easier than I expected.  There were no blow-outs or other dumpling mishaps despite my shoddy pleating, actually they were a lot more forgiving than the usual freezer-aisle ones during the frying process.
Cost analysis:
1 lb grass fed pork: $5.99
1 piece of ginger: $0.56
3 green onions: $0.35
4 napa cabbage leaves: $0.56
7 fresh shitake mushrooms: $1.12
Total cost for 6 servings or 50 dumplings: $8.58 or $1.43 per serving or 17¢ per dumpling
Thanks Jen!  I can't wait to try the shrimp filling!

Posted in Budget, Main Dish, Snacks/Appetizers