December 9th, 2009 by katie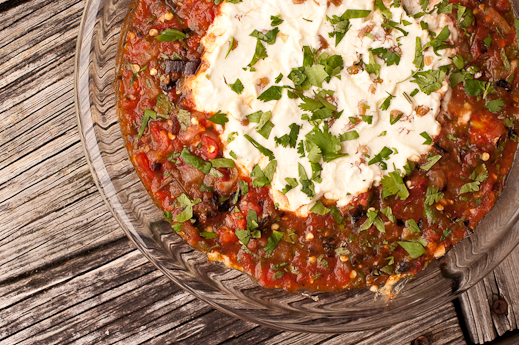 This is a fantastic party dip, and the salsa? Is one of the best we've ever made, and-being from Texas-we've made a lot of salsas.  The warm goat cheese mixture is creamy, and tangy, and the whole delicious dish is just perfect scooped up with crunchy tortilla chips, pita chips or spread upon toasted, sliced baguette.  It was quickly become one of our favorite party foods.
Salsa Baked Goat Cheese
serves 4, prep 10 min, cook 20 min, adapted from
Salsas That Cook
1/4 cup pine nuts or coarsely chopped walnuts or pecans
4 oz goat cheese, softened
3 oz cream cheese, softened
2 cups Roasted Jalapeño-Tomato Salsa below or other favorite salsa
Chopped fresh cilantro, for garnish
Preheat oven to 350°F.
Toast the nuts on a baking sheet in the oven until lightly browned, about 7 minutes (the pine nuts will brown quicker than either of the others).
In a bowl, thoroughly combine cheeses and nuts.
Scoop it into the center of a baking dish, forming it into a flat disk. Pour salsa over and around cheese.
Bake cheese mixture just to warm it all the way through, 10 to 15 minutes.
Sprinkle with cilantro and serve with dippers.
This would be great without the nuts as well if you have an allergy or if they are too expensive-pine nuts can be crazy expensive!  You can make this quickly with any favorite salsa, but I think this salsa recipe has a really wonderful flavor.  It is great served warm or cold and can be made in advance.
Roasted Jalapeño-Tomato Salsa
makes about 2 cups, prep 10 min, cook 30 min, adapted from
Salsas That Cook
1 1/2 pounds plum or roma tomatoes (about 10 medium)
1 to 3 fresh jalapeño chiles (1 to 1 1/2 ounces), stemmed
Half of a small white onion (2 ounces), sliced into 1/4 inch thick rings
4 garlic cloves, peeled
1/4 cup water
1/3 cup chopped fresh cilantro, loosely packed
1 generous teaspoon salt
1 1/2 teaspoons cider vinegar
Heat the broiler. Place whole tomatoes and jalapeños on a broiler pan or baking sheet.
Broil for about 6 minutes, until darkly roasted and even a bit blackened.
Flip over the tomatoes and chiles and roast the other side for another 6 minutes or so.  Allow to cool.
Set the oven to 425 degrees. On a separate pan or baking sheet, combine the onions and garlic.
Roast in the oven, stirring occasionally, until browned and soft, about 15 minutes.  Allow to cool.
Add jalapeños, onions, and garlic to a food processor and pulse to chop.  Scoop out into a bowl.
Add tomatoes to the processor and pulse to a rough puree.
Pour tomatoes into the bowl with jalapeño mixture and stir.  Add water if needed to thin.
Stir in cilantro, salt, and vinegar.  Taste and re-season if necessary.
Three jalapeños in this recipe is HOT.  If you can't handle hot, slice the jalapeños open vertically and remove the seeds before roasting or reduce the amount of jalapeños all together.  We have come to really love this salsa and make it often.  Three jalapenos for a double batch is the perfect amount of heat for us.  If you are making this in order to make the salsa baked goat cheese be sure to make a double batch so you have extra for snacking!  This salsa is also fantastic over a cheesy omelet or in migas.

Posted in Easy, Snacks/Appetizers