April 13th, 2009 by katie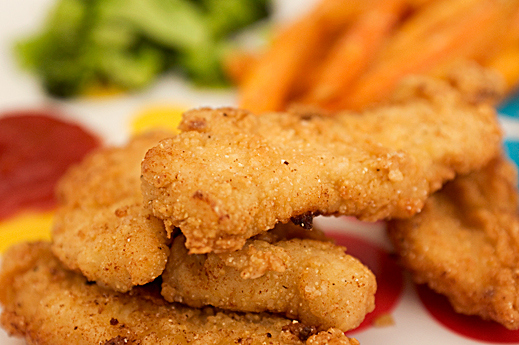 One of the fastest, easiest meals you can make for picky kids is chicken.  Chicken nuggets, chicken fingers: there is something about the familiar, buttery flavor of a chicken breast that puts kids at ease.  Breading and pan-frying chunks of chicken breast takes very little time and served with some steamed veggies and my favorite sweet potato fries you've got a great, quick meal that everyone will eat.
Chicken Fingers
serves 4, prep: 10 min, cook time 30 min
1 lb boneless, skinless chicken breasts, trimmed of fat
1 cup flour (can sub all or part whole wheat flour or corn meal)
2 eggs
salt and pepper
oil for frying
Cut chicken breasts into small pieces, either small strips or nuggets.
Place egg in a bowl and place flour in another bowl, add any seasonings to flour like salt, pepper, garlic, or mustard powder.
Dip chicken pieces in egg, allowing excess to drip off.
Then roll chicken in flour until completely coated.
Set aside and dip and coat all chicken pieces.
In a heavy skillet, heat about 1 inch of oil until it bubbles when you toss in a bit of flour.
Cook chicken nuggets in batches, turning several times, until golden brown and juices are clear.
Drain on paper towels and serve.
I use light olive oil as my all-purpose oil.  You can use it to fry your chicken and your potatoes if desired, then strain it into a clean jar and store it in the fridge or pantry for another meal.  You can also omit the eggs and just soak the chicken in a bit of milk or buttermilk.
Cost Analysis:
1 lb all natural chicken breasts: $3.99
2 cage-free eggs: $0.37
2 cups organic frozen broccoli florets: $0.49
1 lb frozen julienned sweet potatoes: $3.39
Total cost for 4 servings: $8.24 or $2.06 per serving