November 29th, 2009 by katie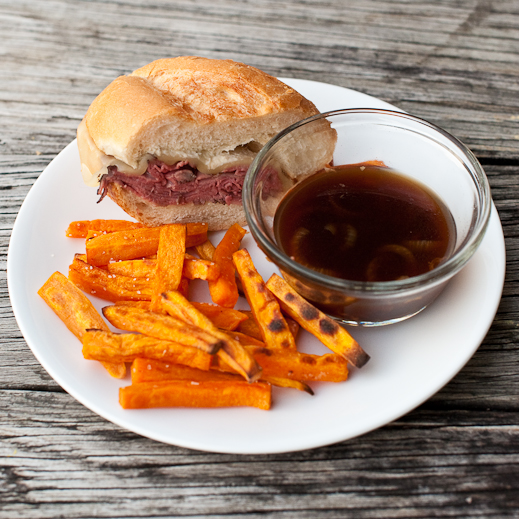 Sandwiches and me are like Jerry Seinfeld and cereal.  I just love them and I could happily eat a good sandwich at every meal.  Perhaps it was because one of my first ever jobs was making sandwiches.  In high school, I lovingly constructed beautiful sandwiches for long lines of hungry lunchers at the mall on weekends.  There, I learned how to appreciate paper thin slices of meat piled just so and the perfect layering of condiments and vegetables.  Even now I love constructing beautiful sandwiches: club sandwiches with layers of avocado and bacon, roast beef and cheddar with sliced red onions, pastrami on rye with sauerkraut and swiss-yum! I get excited and hungry just writing them out.  I know. <—- Nerd.
It could also be that hot sandwiches just make a great fast weeknight dinner.  My favorites are reubans and french dips.  A good french dip is such an easy-yet hearty and impressive-dinner.  I have two french dip recipes, this one my mom taught me when I was just learning to cook-which uses canned french onion soup for the jus and simmers the roast beef in the broth-and the one below.  I like the one below because it is just as easy and quick yet it doesn't over cook the rare roast beef. 
French Dip Sandwiches Au Jus
serves 4, prep 10 min, cook 10 min
4 cups beef broth
1/2 small onion, sliced into rings
1-2 cloves garlic, minced
4 hoagie rolls
1lb lean, rare deli roast beef, thinly sliced
8 thin slices provolone
roasted garlic mayonnaise
prepared creamy horseradish
In a medium pot, add beef broth, onion and garlic to a boil.
Boil vigorously until reduce by half.  You should be able to measure out 2 cups of au jus.
Separate hoagie rolls and broil until slightly crisp. Do not walk away from the broiler unless you have lots of extra rolls on hand!
Once they are good and crunchy, spread mayo on one side of each roll, loosely pile 3-4 ounces of roast beef on top of the mayo.
Top roast beef with two slices of provolone.
Return to the broiler and broil until cheese is melted and edges darken.
Spread horseradish on top bun and close sandwiches.
Serve cut on a diagonal and au jus on the side.
I was able to buy roasted garlic mayonnaise already prepared at the store but to make it yourself just roast a head of garlic in a small crock in the oven with a bit of oil and then combine the softened, caramelized cloves with regular mayonnaise and keep in the fridge.  You could also just sprinkle them very lightly with a bit of garlic powder.  The whole point to this recipe is that it should be easy to whip up with ingredients on hand with just a trip to the store for hoagies, roastbeef, and cheese.

Posted in Easy, Fast, Main Dish, Things I Love