February 10th, 2009 by katie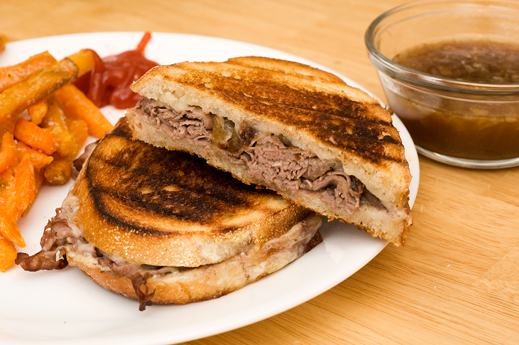 I have a french dip recipe we like a lot-it is quick and easy to make in the evenings and is a staple for us when we need a simple sandwich dinner on the weekly menu.  But the recipe has a few problems that have always bugged me.  First, the sliced roast beef is cooked in the au jus which eliminates the possibility of tender, moist medium-rare meat.  Also, the au jus is made from french onion soup which is why it is a "cheater" recipe, but really how hard is it to make a little spiced up beef broth? Also, I always have trouble with the bread-hoagie rolls sprinkled with garlic powder just always seemed to take away from the flavors rather than add to them.
Recently, I saw this french dip panini on Panini Happy and from the ingredients I knew it would have all the flavors of the recipe we've always loved and also solve the problems I have had with it.  It was just as easy and quick and the flavors were so ramped up and delicious-this is the french dip recipe we will use from now on!  I did make a few adjustments to make it more weeknight friendly and the prep time is about 30-40 minutes, but it only takes a few minutes to cook the sandwiches in a panini press and you are ready to eat.
French Dip Panini
makes 3-4 depending on size, prep 40 min, cook time 5 min
1 head garlic
olive oil
2 onions, thinly sliced into rings
1/2 onions, finely diced
2 cloves garlic, minced
2 cups beef broth
2 tbsp beef base or bouillon ( I used a combination of beef and mushroom base)
water
1/2 tsp thyme
salt and pepper
1/2 cup mayonnaise
thinly sliced french or sourdough bread (ask bakery to slice with their machine-perfect thickness)
1 pound thinly sliced medium rare roast beef
4-6 slices provolone cheese
Start by roasting the head of garlic in the oven at 400°F.  Cut off the top of the garlic to expose the cloves and drizzle with olive oil, place in a small crock or wrap in foil and place in the oven.
While garlic roasts, saute onion rings in a little oil over medium heat, stirring occasionally until soft and brown.
While onions are cooking start au jus in a small pot: saute diced onion and garlic in oil until soft and translucent.
Add beef broth and bouillon, taste.  Add salt as desired, pepper and thyme.  If too salty add small amounts of water to dilute.
Allow to simmer while constructing sandwiches.
Remove garlic from oven when golden brown and soft, allow to cool enough to handle.
Squeeze garlic cloves out of paper and mash on a cutting board, stir into mayonnaise.
When onions are ready, construct sandwiches. Lay out bottom bread slices and spread with garlic mayo.  Top with thick piles of roast beef, then caramelized onions, then layer provolone over all.  Top with bread slice.
Brush outsides of sandwich with olive oil and place in panini press or cook on a griddle.
Sandwiches only take minutes to cook in a panini press (or in our case George Foreman Grill) but there is enough time to drop some sweet potato fries into the deep fryer.
Ladle au jus into small bowls and serve alongside sandwiches cut on the diagonal.

Posted in Condiments, Main Dish