September 7th, 2009 by katie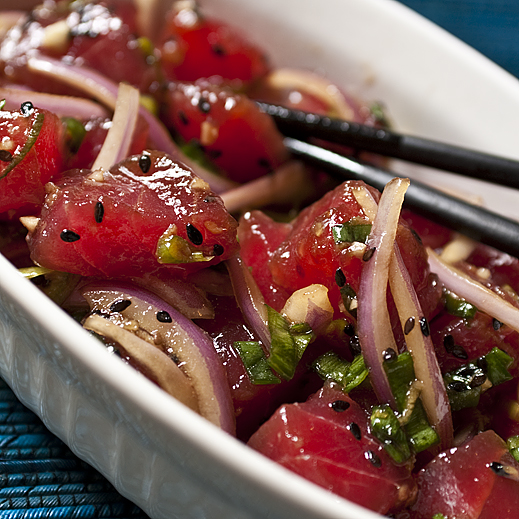 So while you've got your sushi grade tuna out, transport yourself to the tropics with this little dish from Hawaii.  Poke (Po-keh) is a native Hawaiian dish that is basically a tuna tartare with an Asian fusion spin.  I had never heard of it-always thinking of Kalua Pork, Poi, and Spam Musubi when I think of Hawaiian dishes.  So I was surprised to see a raw fish dish on the menu of nearly every restaurant we visited.
We ate it constantly while on vacation.  It is a nice, light dish to eat in the heat and it doesn't make you feel terrible in your bathing suit.  It is great as a salad or appetizer but I think poke is especially delicious served atop a pile of sushi rice.  Don't mistake, this dish is not like a ceviche where the fish is actually cooked by the acids in the marinade, but don't be afraid of the raw tuna!  In Hawaii it is not uncommon to find poke being served at family gatherings and buffets-not the place I typically want to get my raw fish from, but nobody dies.  Just get sushi grade fish and handle it with care, keeping it as cold as possible.
Hawaiian Poke
serves 2, prep 10 minutes, chill 15 minutes
8 oz. sushi grade yellowfin (ahi) tuna, sliced into bite-sized pieces
1/4 onion, julienned, I used red but sweet onions like Maui Onions work great
1 green onion, diced
1/8 tsp fresh ginger, grated
1 garlic clove, minced
2 tbsp soy sauce, use low sodium if desired
1/2 tsp sesame oil
1 tsp sesame seeds, I used black but regular toasted ones are fine
salt to taste
Combine onion, green onion, ginger, garlic, soy sauce, sesame seeds and oil in a bowl.
Add bite sized pieces of tuna, mix well.
Chill the mixture for 15 minutes before serving so flavors can mix.  Check for salt before serving, the soy sauce can be pretty salty without needing any additional salt.
The raw yellowfin tuna has a really nice firm texture, so be sure to cut it into nice sized bites.

Posted in Easy, Fast, Main Dish, Salads, Sides, Snacks/Appetizers