August 12th, 2009 by katie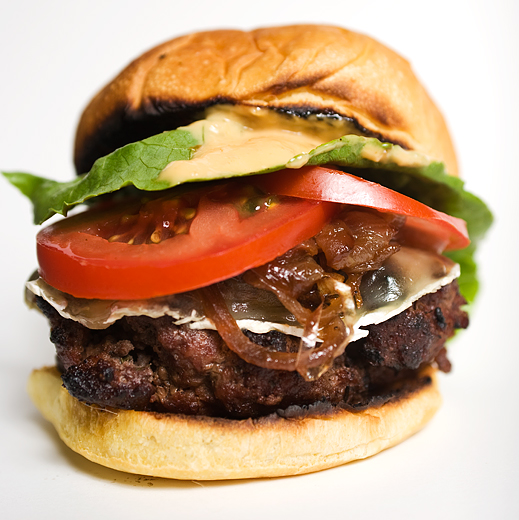 I love burgers.  I love them fully loaded and sandwiched inside soft, bakery rolls.  We tried experimenting with some new flavors recently.  I asked the deli to slice a round of brie and picked up some tangy horseradish and onion mayo.  The burgers were pretty standard-salt, pepper and a little Worcestershire sauce-to which mrChaos added a good dose of dried thyme.  On top was a nice pile of slowly caramelized red and yellow onions, tomatoes and romaine.  Overall, pretty delicious.
We're on vacation!  I have a couple of guest posts scheduled for next week while I am gone, but otherwise I'll see you in two weeks when I am sufficiently tanned and relaxed.  I'll be checking in from time to time so don't hesitate to drop me a note-especially if you can recommend some good eats on Oahu!-and be sure to show my awesome guest posters some love.  Finally, have a great time wrapping up your summer while we're gone-school starts when we get back so it'll be back to Monday, Wednesday, Friday posts.  See you then.