March 20th, 2009 by katie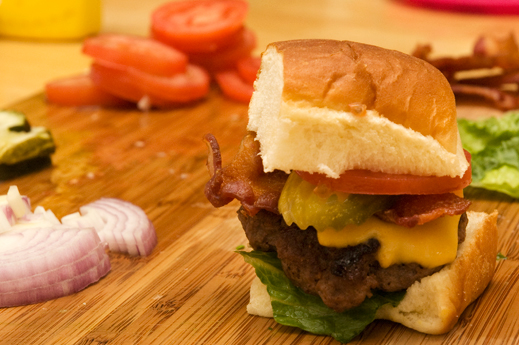 I really like burgers for dinner: they are such as easy, fun, and satisfying meal.  So I was hoping I could fit them into the budget now that we are being conscious of how much our meals are per serving.  I have been in the mood for sliders lately so I picked up some dinner rolls and ground beef and my favorite sweet potato fries.  There is no recipe here, I formed 2 pounds of ground beef into 16 mini patties and cooked them on the stove-top.  We set out the toppings and made the fries and dinner was ready.
Cost Analysis:
16 dinner rolls: $4.98
2 lb grass fed beef: $9.99
4 slices American cheese: $1.25
frozen sweet potato fries: $3.39
Total cost for 6 servings: $19.61 or $3.27 per serving
And whoa was it expensive once I ran the numbers.  I did learn a few things though.  First, the pre-cut julienned sweet potato fries and pre-made dinner rolls were the budget busters.  Homemade dinner rolls and whole, fresh sweet potatoes would have actually brought this meal down into the recession category.  Second, for $20 I treated a family of six to sliders and fries in about 15 minutes.  So, really, we did better than if we had hit a drive thru both nutritionally and budget-wise.  Sometimes it is worth a little extra to have a quick meal ready when your fingers start to reach for the car keys.  Of course if I had extra dinner rolls stashed away in the freezer or the inclination to chop up a sweet potato, I would be ahead of the game with this meal.

Posted in Fast, Snacks/Appetizers