July 3rd, 2009 by katie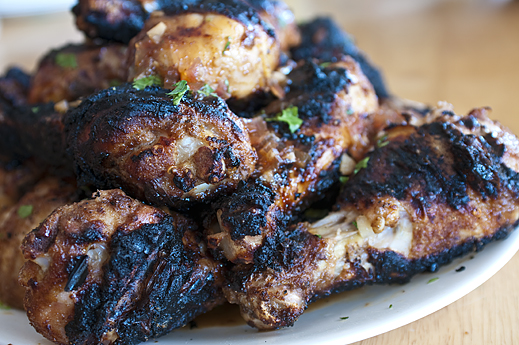 I got this recipe somewhere, but for the life of me can't figure out where.  Of course I messed with it enough that you might not recognize it but if it was you-sorry! send me a link.  I had some chicken legs I wanted to grill and I wanted a zippy, fresh flavor, well-charred skin, and juicy, moist meat.   This recipe provided all of that, was easy to put together, and even easier to cook.  Charring your meat over a high flame can be bad for you, so be sure to serve this with an antioxidant rich side like my strawberry salad.  Also, we over-charred our legs a bit, you can avoid this by glazing the chicken closer to the end of the cooking time.  You'll still get a good char though from the sugars in the glaze, and even the pieces that turn out completely black don't taste burnt like you would expect, just smoky and juicy and flavorful.
Margarita Grilled Chicken Legs
serves 6, prep 10 min, grill 15 min
3 lbs chicken legs
dried coriander, salt and pepper
1/2 cup orange juice
2 limes, juiced
1/3 cup tequila
1 tbsp brown sugar
1 tbsp honey
1 clove garlic, minced
1/4 large onion, finely diced  or 1 shallot
fresh cilantro
lime
As much ahead of time as possible, sprinkle chicken with coriander, salt and pepper, to cover. Refrigerate until ready to grill.
In a medium sauce pan, combine orange juice, lime juice, tequila, sugar, honey, garlic, and onion. Bring to a simmer and simmer uncovered until slightly thickened and reduced, about 10 minutes.
Reserve about 1/4 cup.
Prepare grill, grill chicken legs about 6 minutes on each side, basting with glaze towards the end of cooking time.
Once chicken is fully cooked, sprinkle with reserved glaze, freshly chopped cilantro, and a squeeze of fresh lime juice.
Chicken legs are a great economical meat for a party.  They are only about $2.50 per pound and go well with the whole, summery eating with your hands barbecue picnic table motif.  Have a great weekend and a nice holiday, here's last year's 4th of July menu.  I hope it isn't 102°F where you are watching fireworks!