February 15th, 2009 by katie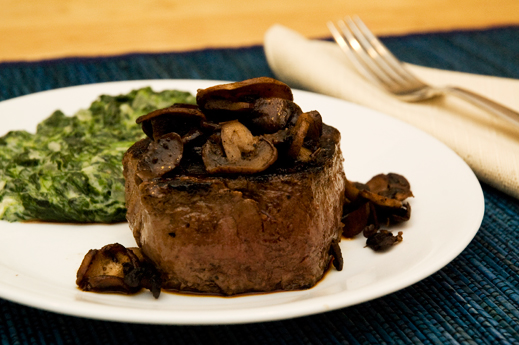 So this is what Valentine's Day looked like at my house.  After a long day at work I was able to come home to this meal lovingly prepared by mrChaos and to relax and just enjoy it.  I love cooking and staying in on Valentine's-working together in the kitchen before snuggling on the couch with a plate of food and a glass of wine.  This meal was far less expensive than any steakhouse dinner would have been: two steaks, creamed spinach, sauteed mushrooms, and creme brulee for dessert for less than $25. 
Sauteed Mushrooms
serves 4, prep 5-10 min, cook 15 min
2 pounds button or cremini mushrooms, whole or sliced (if cooking whole choose small ones)
4 tbsp butter or bacon fat
1 clove garlic, minced
2 tbsp minced onion or shallot
2 oz cognac or red wine
salt and pepper
Start with a large skillet at high heat.
Add 1/4 fat then sprinkle about 1/4 of mushrooms over melting fat before it burns (if using butter). 
Stir minimally, salt and pepper mushrooms to taste.
Once mushrooms are browned push them to the sides on the pan and add second batch of fat and mushrooms in the center.
Continue until the last of the mushrooms are added and also add garlic, and onion or shallot.
Once everything is cooked and browned to your liking, deglaze the pan by removing it from heat and adding the cognac.
Return the pan to the heat and scrape the bottom.
Creamed Spinach
serves 4, prep 5 min, cook 10 min, adapted from
Gourmet
, December 2004
1 lb fresh baby spinach leaves
1/2 cup whole milk
1/3 cup heavy cream
1/4 cup finely chopped onion
1 clove garlic, minced
2 tbsp butter
1 tbsp flour
pinch of nutmeg
Place about 1 inch of water in a large stock pot and add a few pinches of salt, bring to a boil.
Wilt spinach, stirring, for about 1-2 min. Remove and immediately rinse under cold running water.
Squeeze all moisture out the spinach (my favorite way to do this is to wrap it in a kitchen towel and wring out the towel) and roughly chop.
Warm milk and cream in a small sauce pan.
Melt butter over medium heat and saute onions and garlic until soft.
Sprinkle with flour and stir until smooth.  Cook flour mixture (roux) for several minutes.
While stirring constantly, pour in hot milk and simmer until thick (If too thick just add additional milk until it is the way you want it).
Stir in nutmeg and spinach and taste, season with salt and pepper.
You could totally substitute a package of thawed frozen spinach for the fresh if desired. Zing!  Just be sure you squeeze it really really well.
The steaks we just sprinkled with salt and pepper and seared in a hot pan for a few minutes per side until they passed the finger test for medium rare.   Follow with this: