December 7th, 2008 by katie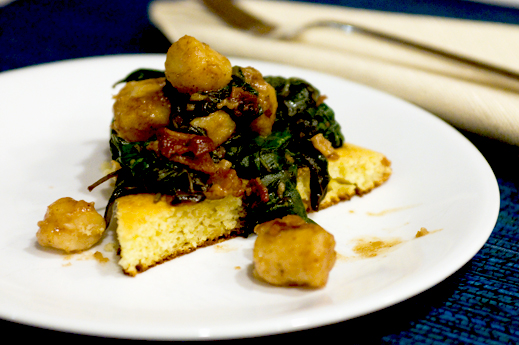 So, I am the luckiest girl in the world. My dear friend Kelly came over and cooked this wonderful dinner for me and mrChaos while my children terrorized her children in the background. It is such an easy quick meal that mrChaos and I were pleasantly surprised by how flavorful and delicious it turned out to be.
A lot of my Fast Food recipes are seafood, because fish and seafood take hardly any time to cook. This recipe is a perfect example, pairing quick cooking scallops with equally quick cooking fresh spinach. Add a little bacon and balsamic vinegar and you've got a seriously flavorful one skillet meal.
Scallops with Spinach and Bacon
serves 4, prep 2 min, cook 15 min, adapted from
Recipezaar
5 slices bacon, chopped
1 lb scallops
2 tbsp flour, seasoned with salt and pepper (or 1-2 tsp seasoning blend)
oil to make 2 tbsp
10 oz fresh baby spinach
2 tbsp balsamic vinegar
2 tbsp butter, cut into small bits
Saute bacon in a large skillet with a lid until crispy. Remove bacon crumbles and reserve fat.
In a large Ziploc bag or bowl toss scallops with seasoned flour until lightly coated.
Add oil to bacon fat to make 2 tbsp (if necessary) and heat on high. Add scallops in a single layer.
Sear scallops quickly over high heat, about 6 minutes, then reserve with bacon crumbles.
De-glaze the pan with the balsamic vinegar, scraping up the browned bits.
Lower the heat to medium and add spinach to the pan. Cover to wilt spinach, about 2 min.
Stir in butter, scallops, and bacon and serve.
Kelly served this over corn bread and I think a corn pudding or puree would also be really nice, as would couscous or rice pilaf. You really just want something alongside to soak up the delicious sauce that forms. Both mrChaos and I embarrassed ourselves by having seconds and then finishing off the leftovers.
If this looks good you might also like: