June 12th, 2008 by katie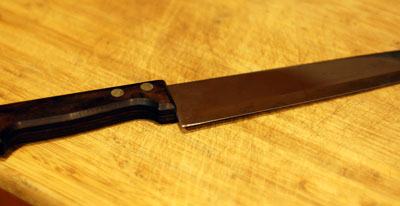 Knife Skills class was fantastic! I got to try a couple of different sizes of chef's knives and settled on an 8 inch for Daddy Chaos and a 6 inch for myself. We also got a quick lesson on all the different kinds of knives out there. We practiced several different cuts: julienne, dice, chiffonade, mince, and supreme. We learned proper grip of the knife and how to safely grip the food we're cutting. Overall, it was a very fun way to spend a few hours and we definitely came away feeling more confident in our knife skills. Practice definitely makes perfect, so now we need to pick up a few knives
and get to work.
Types of Knives
There are pretty much as many specialized knives as there are kitchen tasks. Some common ones are: paring, peeler, utility, bread, carver/slicer, chef, santoku, boning, filleting, lettuce, cheese and steak knives. On our counter top we have a universal knife block
. This way we can buy the best individual knives for us rather than a big, expensive set that has a bunch of knives we won't ever use. Currently we have several santoku knives
(santoku refers to the shape of the blade, not the hollows on the side, I learned), but after our class we will be switching over to chef's knifes. I really liked the slight curve of the chef's knife. Being able to rock the blade over the cutting board really made the typical cuts a lot easier. We also have a long, serrated bread knife, and several sharp paring knives. We have a bunch of other mixed knives but will probably get rid of most of them and invest in a good slicer, a good utility knife, and maybe a cheese knife.
Knife Care: Steeling & Sharpening
The long metal rod that came with your knife set is the steel. Using it every time you use your knife will keep your knife feeling sharp much longer. It isn't actually sharpening the knife, however. Making contact with the cutting board over and over bends the blade of your knife, making it feel dull. Rubbing it a against the steel a few times just bends it back so it is nice a straight and sharp again. Be sure to use even strokes, the same number on each side of the blade, and start from the hilt of the knife and pull back all the way to the tip each time holding the knife at about a 20° angle. Doing this frequently will significantly extend the period between real sharpening.
You should get your knives professionally sharpened about once a year depending on use. Sharpening needs to happen on a wet-stone, belt or by machine. Don't attempt it yourself unless you know what you're doing because you will probably ruin your knife. Lastly, always wash your knives by hand and store in plastic or wooden slots to keep the blades from banging against each other.
Knife Grip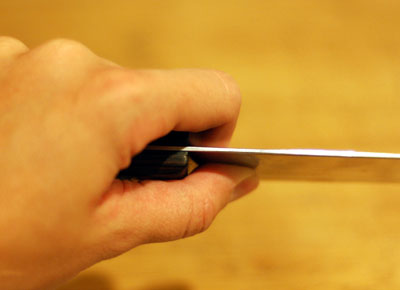 The best way to hold a knife is to actually grasp the blade between your thumb and forefinger just in front of the bolster (the place where the blade meets the handle). Then grip the handle with the rest of your fingers. This gives you the most control over the blade. I find it really hard not to extend my finger along the spine of the blade, but it really isn't as secure that way.
Follow along the Knife Skillz Series:

Posted in Tips and Tricks