May 28th, 2008 by katie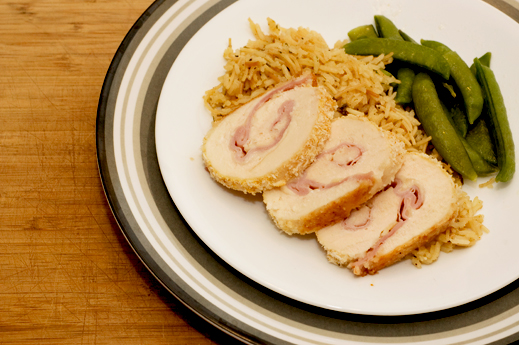 You choose the filling, making this recipe your own.
Stuffed Chicken Breasts
Serves 6, Prep: 15 min, Cook: 30 min
6 boneless, skinless chicken breasts, trimmed of fat
¼ – ½ cup bread crumbs
¼ cup Parmesan cheese, grated
1 tbsp olive oil
1 ½ cup filling*
Place each chicken breast between two sheets of plastic , using a plastic zip top bag or two sheets of plastic wrap and pound flat and even using a meat mallet or heavy bottle.
Preheat oven to 400°F. Season breasts with salt and pepper. Combine crumbs and cheese on a shallow plate. Add any seasonings you want to the crumb mixture if you are feeling it.
Place 2-3 tbsp of filling in the center of each breast. Roll the breast up burrito style.  This can be difficult depending on how well your breasts flattened out (if you breastfed any children they are probably nice and flat. No? Just me? Darn, ok). If you have trouble actually rolling the chicken around the filling then feel free to simply fold the breasts over and use toothpicks to seal them. If you really want to deviate from the recipe, you can forgo flattening them at all and use a sharp knife to cut a pocket in the breast and stuff them that way.
Liberally brush the chicken roll with oil and roll it in the breadcrumbs. Use your hands to pat on the crumbs on any bare spots.
Oil a baking sheet and place chicken rolls seam side down. Bake for approximately 25 minutes or until chicken is cooked through.
While chicken bakes, prepare rice and veggies. Also, clean up dishes and wipe down counters (ha ha ha hee hee hee ho ha).
*The best part of this recipe is it works for any filling you might want to try.  Some fillings we like are: diced deli ham and shredded Swiss, diced steamed broccoli and cheddar, cooked crumbled bacon and Monterrey jack (sometimes with chopped pickled jalapenos).   You could try fresh spinach and feta, herbed goat cheese, or prosciutto and mozzarella, but I haven't yet.  Sounds delicious but I have to be realistic about what people around here will eat.