May 14th, 2014 by katie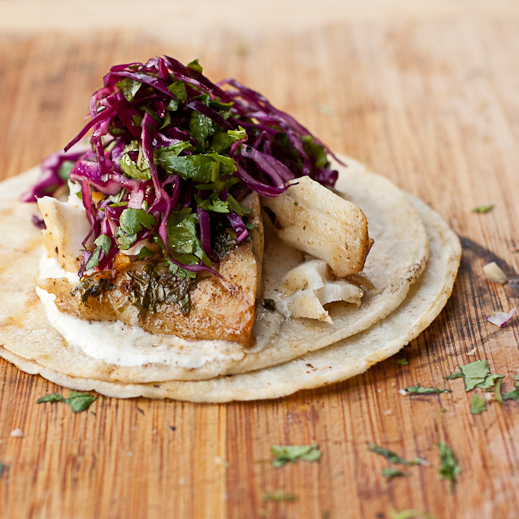 So, the cardiologist says to eat five servings of non-shell fish a week.  I have never been a big fish eater so I am doing my best to comply.  Luckily, I am finding that the more fish I eat, the more I like it.  Firm white fish has a wonderfully filling texture and meatiness that doesn't make you feel overfed.  Likewise, fattier fish, like salmon, taste rich and indulgent.  The extra bonus is how quickly it cooks-always a plus when looking for fast weeknight meals.  Tacos are one of our go-to weeknight dishes so fish tacos are an easy transition.  Below are two versions we've loved.  The first is a quick weeknight style and the second is a little more intense!
Tequila Lime Fish Tacos
serves 4, prep 30 min, cook 10 min, adapted from
SELF, June 2012
marinade
1/3 cup lime juice
1/3 cup tequila
2 cloves garlic, minced
2 tbsp cilantro, minced
2 tsp cumin
1 1/2 lb white fish, such as mahi mahi, cod, or halibut
cabbage slaw
3 tbsp rice wine vinegar
1 tsp oil
2 tsp honey
1/2 tsp kosher salt and pepper to taste
3 cups red cabbage, thinly sliced
1 tbsp cilantro, chopped
crema
3/4 cup sour cream
2 tbsp milk
2 tsp lime zest
1 tsp garlic powder
1 tsp cumin
1 tsp honey
1/4 tsp salt and pepper to taste
8 corn tortillas
1/2 avocado, sliced
Preheat grill or grill pan over medium-high heat.
Combine marinade ingredients in a large zip-top plastic bag.  Add fish and refrigerate 30 minutes, turning half way through.
Meanwhile, combine slaw dressing ingredients in a bowl.  Add cabbage and toss to coat.
Combine the ingredients to make the crema, chill until serving.
Remove fish from marinade and grill approximately 4 minutes per side depending on thickness of fillets.  Sprinkle with salt and pepper as desired.
To serve, stir 1 tbsp cilantro into cabbage mixture.  Heat tortillas on the grill.  Flake fish into bite sized pieces.
Each taco is two corn tortillas topped with a spoonful of crema, fish, and cabbage mixture.
This recipe is delightfully easy.  The cabbage is crunchy, sweet and tangy, while the crema is smooth and citrusy.  One change I made was to add some heat to the crema.  I also used jalapeno oil on the fish which was the perfect amount of heat for us.
The following recipe is from a friend of ours in Austin and is much spicier.  His recipe uses a creamy slaw and has an added mango pico that is out of this world!  The combination is perfect: creamy, crunchy, sweet and hot.  Greg is an accomplished chef and probably much faster in the kitchen than I am so I must add that I reserve this version to a day when I have extra time, but it is so worth it.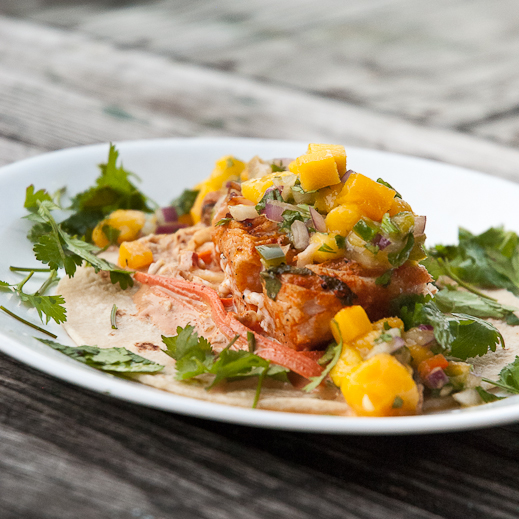 Greg's Chipotle Fish Tacos with Mango Pico
serves 4, prep 45 min, cook 10 min
marinade
1/2 lemon, juiced
1/2 lime, juiced
1/2 cup oil
1/2 bunch cilantro, chopped
1 jalapeno, minced
2 cloves garlic, minced
1 tbsp smoked paprika or chipotle for more heat
1 tbsp salt
1/2 tbsp vinegar
1 1/2 lb mahi mahi, or other white fish
chipotle slaw
1/2 Napa cabbage, julienned
1 cup carrot, julienned
1/2 cup mayo
1/2 lemon, juiced
1 tsp hot sauce
1 tbsp chipotle chili powder
1/2 tbsp sugar
salt and pepper
mango pico
1 small mango, peeled, seeded and diced (see how to cut mango)
1 small red onion, diced
1 jalapeno, diced
1/2 bunch cilantro, chopped
1/2 lime, juiced
1 tsp salt
Preheat a grill or grill pan to medium.
Combine marinade ingredients and add fish filets.  Marinade no longer than 30 minutes.
Meanwhile combine ingredients for the chipotle slaw, chill until serving.
Also, make the mango pico and set aside.
Remove fish from marinade and grill approximately 4 minutes per side depending on thickness of fillets.
As Greg says, heat up some corn tortillas and go to town!

Posted in Main Dish