November 14th, 2013 by katie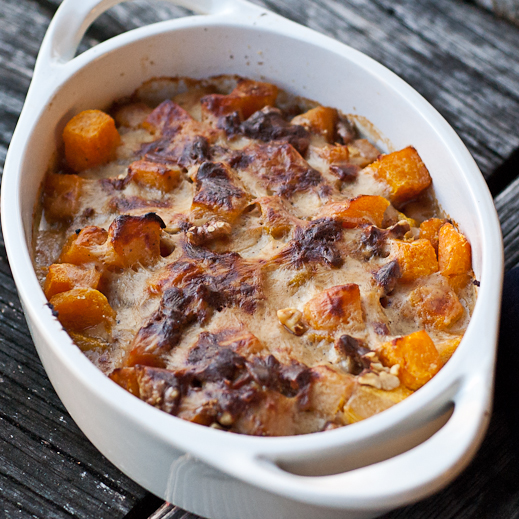 I have never been very good at getting new holiday recipes up before the holidays.  Mostly because we like to eat the same things over and over, but also because planning ahead is not my, er, forte.  I am more of a seat of the pants, spontaneous, give-in-to-every-craving type cook.  So lucky, lucky I had a craving for fall flavors and it just so happens I discovered this earthy and savory holiday-ready side.  Sweet and peppery Caramelized Butternut Squash has been on the menu for the last few Thanksgivings but there might have to be an upset this year.  I don't like my butternut squash too sweet and this Gruyère rich, creamy gratin fits the bill.
Butternut Squash and Gruyère Gratin
serves 10, prep 15 minutes, cook 1 hour
2-3 pounds of peeled, sliced or chopped butternut squash (I bought pre-chunked for quick prep but you can also slice into pretty rounds)
2 cloves garlic, minced or grated
4 tbsp butter, plus more to grease casserole
1/4 cup flour
2 1/4 cups low-fat milk
1 lb Gruyère cheese, grated
salt and pepper
Pre-heat the oven to 375°F and grease a medium casserole.

Layer half of the squash and garlic in the bottom of the casserole, sprinkle with a pinch of salt and pepper.

In a sauce pan, melt butter over medium-low heat until beginning to brown-watch carefully.

Whisk in the flour and cook for a few minutes until mixture is a golden brown color.

Pour in milk slowly while whisking constantly.  Cook over medium heat until the sauce bubbles gently and thickens.  

Remove from the heat and stir in the cheese.  Taste and add salt and ground pepper as desired.  

Pour half of cheese sauce over squash in the casserole.

Cover with remaining squash and garlic. Then top with remaining cheese sauce.

Bake casserole at 375°F for about an hour or until squash is soft and cheese is browned.  If it is browning too quickly, cover with foil.  If you like it darker, place it briefly under the broiler.

If desired, garnish with chopped, toasted walnuts or minced fresh sage.