October 3rd, 2012 by katie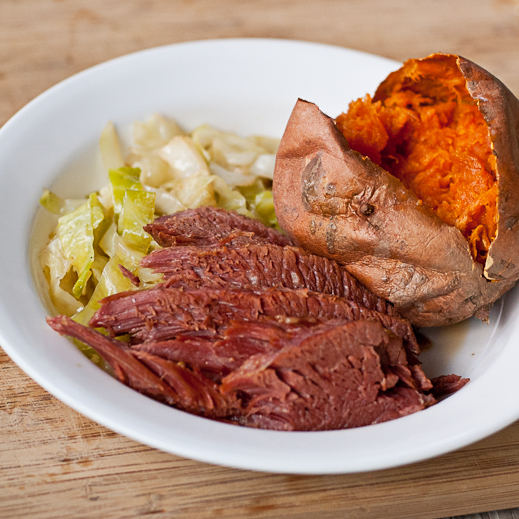 It is funny how in the midst of summer you can't imagine ever eating another braise or stew again.  You will happily live off of garden fresh veggies for the rest of your life and never heat up the kitchen again.  Yet, the first breezy day and the first pumpkins of the season pop up and out come the slow cookers and casserole dishes.  I don't know if my slow cooker has been in such regular rotation lately because of the season or because I have yet again changed my working hours, but I couldn't wait to make you this corned beef.  This recipe is so nostalgic for us and has been a favorite here for years.  I served this with Baked Sweet Potatoes, my favorite recipe for cabbage and some warm pan de queso-cause I'm multi-cultural like that. 
Corned Beef
serves 6, prep 10 min, cook time: 3 hours to 9 hours depending on method
1 corned beef brisket
12 oz beer such as Guinness
32 oz beef stock, to cover
1 onion, quartered
2 tbsp vinegar, I haven't found it to matter what kind
2 tbsp sugar
10 peppercorns, slightly crushed
3 cloves
2-3 bay leaves
Remove the brisket from its packaging and rinse and place it fat side up in a pot or slow cooker.
Add all additional ingredients to cover the meat.
Bring to a boil then cover and turn heat down to a simmer.  Simmer approximately 3 hours or you can cook in a slow cooker for 4-6 hours on high or 9 hours on low.
Remove corned beef from braising liquid and allow to rest 10 minutes.  Slice off remaining fat cap and slice thinly across the grain.
I don't particularly care for the one-pot beef and veggies meal because the veggies wind up mushy and everything tastes the same.  Freshly steamed or lightly sauteed vegetables are such a nice compliment to the juicy corned beef.  This recipe is a great way to enjoy cabbage any time.  The end result is sweet and buttery with just enough texture left in the greens.  You can also add additional spices to compliment your meal course-curry, red pepper flakes, etc.
Simple Cabbage Saute
serves 6, prep 5 min, cook 30 min
1 head green cabbage, cored and sliced
4 tbsp butter
salt and pepper
Melt butter over medium-high in a large skillet.
Add cabbage and stir to coat in butter.
Sauteed cabbage, stirring occasionally, about 30 minutes or until cabbage starts to caramelize.
Season to taste with salt and pepper.
If you get any nice browned  bits in your pan you can also de-glaze with a splash of white wine.