May 12th, 2012 by katie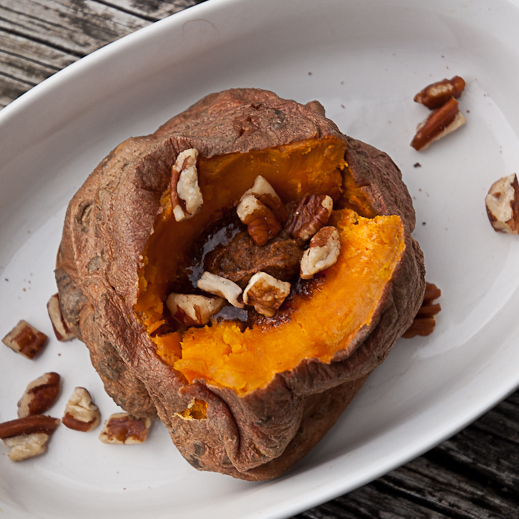 I created chaosinthekitchen four years ago to chronicle my personal recipe box for family and friends.  Its popularity over the years with people I've never had the pleasure to meet in person has been a tremendous, humbling surprise.  I am forever grateful to all of you who have read and shared and participated on this site.  Since changing my work schedule to a traditional Monday through Friday, 8 to 5 shift, the quick favorites in the recipe box have become even bigger players in our lives.  I have also come to terms with the idea that we eat breakfast for dinner, jarred spaghetti sauce, and macaroni and cheese (still homemade at least) much more frequently these days.
I've never posted many side dishes on this site because we primarily eat steamed broccoli or some other simple vegetable with our meals.  These sweet potatoes are an example.  Simply scrubbed and popped in the microwave for 8 minutes, perfectly "baked" sweet potatoes ready while the table is being set.  I hadn't shared them with you before because its not really a recipe, but as it's a side we've been enjoying a lot more often lately-with a chicken breast, piece of fish, or small steak and the ever present steamed broccoli-I thought you might enjoy it as well.
Chipotle and Brown Sugar Baked Sweet Potatoes
serves 4, prep 5 min, cook time 8 minutes
4 small-medium sweet potatoes or yams
2 tbsp butter
1 tsp chipotle chili powder, or to taste
1 tbsp brown sugar, or to taste
Scrub and trim any bad spots from the sweet potatoes. Use a fork to poke several holes in the potatoes' skin.
In a small bowl, microwave butter a few seconds until it is slightly softened.  Stir in chili powder and sugar to taste.  For the kids I mix up a half batch without the chili powder (if you are unfamiliar with chipotle chili powder, it is fairly spicy so start small and add to taste).  If you use unsalted butter add a pinch of salt as well.  Return butter to the fridge.
Microwave potatoes on a plate or paper towel for 8 minutes.  Carefully remove hot potatoes and cut a slit down the center pressing the ends to the center to pop them open.  Add a dollop of butter to each potato and serve.
This recipe is extremely versatile, you can serve with plain, salted butter, or make a compound butter with herbs and goat cheese.  Above, I sprinkled the cooked potatoes with chopped pecans.