June 2nd, 2012 by katie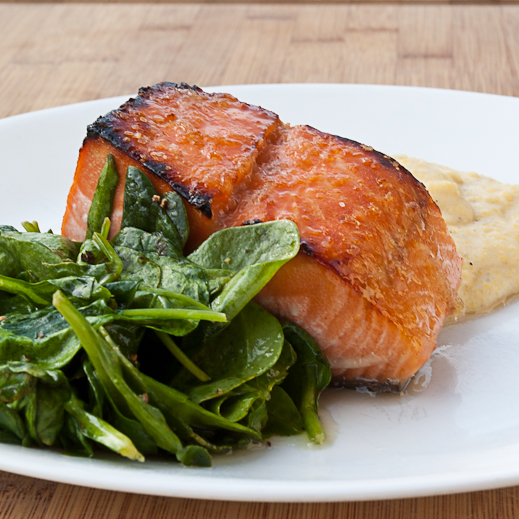 Thank goodness it's summer vacation!!  We have been struggling pretty hard with making dinner after work and still getting the kids to bed on time.  Luckily, now there's less concern for bedtime and I can focus more on quality time.  Not that this isn't a quick dish.  It's just that in the absence of bedtime pressure, I'm a little more courageous when it comes to tackling dinner after work.  So instead of having 30 minute macaroni and cheese or spaghetti, we had 45 minute salmon, polenta and spinach.  
Honey Ginger Salmon
serves 4, prep 10 min, chill 20 min, cook 15 min, adapted from
Cooking Light
1/3 cup honey
1 tbsp lemon juice (1/2 lemon)
1 tbsp water
1 tsp fresh ginger, grated or minced
1 clove garlic, grated or minced
12 oz salmon fillets (approx 2)
salt
Preheat oven to 325F.
Combine honey, lemon juice, water, ginger, and garlic.
Pour into a small baking dish that will fit your fillets (mine was a 1 qt, about the size of a loaf pan).
Place salmon skin side up in the baking dish, refrigerate 20 min.  Meanwhile, prep sides.
Turn fish over, sprinkle with salt and bake 7 minutes.
Remove from oven, preheat broiler.
Brush fish with honey mixture from baking dish.  Broil until fish is browned and flakes easily, about 7 minutes depending on thickness of fillets.
So how do you make perfectly tender, barely wilted spinach?  In the microwave of course.  If you've been here long you'll know I make nearly all of my vegetables in the microwave.  It is such an easy and fast way to steam frozen veggies, bake potatoes, and yes, make perfectly wilted-but not too wilted-spinach.
Perfect Quick Spinach
serves 2-4, prep 5 min, cook 1 min
4 cups or 1/2 oz baby spinach, washed
1 tbsp olive oil
optional seasoning
salt and pepper
Place spinach in a microwaveable bowl, drizzle with oil and sprinkle with salt and pepper.  Add a splash of lemon juice or some garlic powder if desired, toss.  Set aside.
When ready to serve, microwave 1 minute.  Toss and serve immediately.

Posted in Easy, Fast, Health/Nutrition, Main Dish