June 10th, 2012 by katie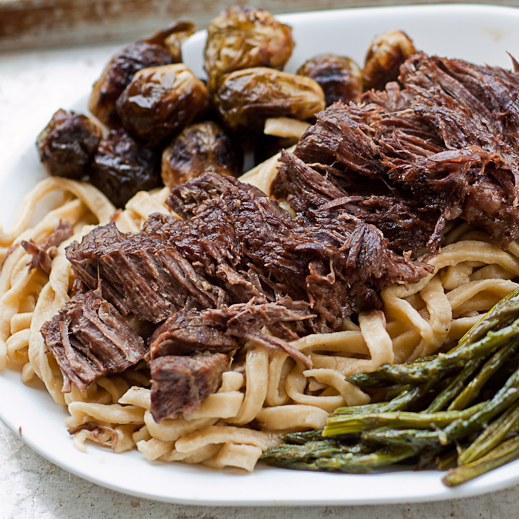 I have never posted a pot roast recipe here because I have never been happy with any of the elaborate pot roast recipes I have tried since I started cooking for myself.  Why is pot roast so hard?  Because everyone (yes, me included) wants to fancy it up with wine and veggies or smother it in cream of mushroom soup.  Which is unfortunate because the very best pot roast is just slow braised beef that tastes like, well, beef.
This is my Aunt's pot roast with homemade noodles which was Grandma's recipe before her and probably Great-Grandma's before her.  The pot roast is great-juicy and beefy-but what really make this meal special are the homemade egg noodles.  Chewy and tender, these noodles are closer to what you would find in a Southern chicken and dumplins recipe than to typical egg noodles.  Feel free to use a pasta maker but I like them best rustic and hand-cut.  It is important to get a nicely marbled chuck roast: the slowly melting fat will keep your roast moist.
Classic Pot Roast
serves 4, prep 15 min, cook 3-5 hours
3-5 lb chuck roast
salt and pepper
2 tbsp oil
8 cups water or beef broth, as needed to cover
Preheat oven to 350F.  Season chuck roast all over with salt and pepper.
Heat oil over medium high heat in a dutch oven or oven proof pot with a tight fitting lid.
Brown roast on all sides in hot oil, remove from heat.
Add enough water or broth to the pot to cover the roast.  Alternately, you can place roast in a slow-cooker and cover with liquid.
Cover pot tightly and bake for 3 hours or longer, until roast is tender and falling apart.
Remove roast to a plate and remove fat while still hot.
Using remaining pot juices to make gravy or to cook noodles!
Homemade Egg Noodles
serves 6, prep 30 min, cook 15 min, dry 3 hours+
2 eggs, beaten
1/4 cup milk
1 tsp salt
2+ cups flour
Combine beaten egg with milk and salt.
Stir in flour until dough forms.
Turn dough out onto a floured counter top and knead until no longer sticky.
Roll dough out as thin as possible.  Slice into noodles approximately a 1/4 inch wide.  If you are using a pasta machine use the fettuccine setting.  My favorite is hand-cut noodles which you can do by simply slicing the rolled out dough into strips or squares or by flouring the dough and rolling it up jelly-roll style and then slicing horizontally.
Spread noodles out to dry or, alternately, place on a cookie sheet and freeze.
Dry noodles at least 3 hours.  When ready to cook, bring soup or juices to a boil and drop in fresh or frozen noodles.
Simmer noodles 10 minutes or until soft and tender.
To scale the noodle recipe do as follows: one egg for every three diners and two tablespoons of milk and one cup of flour per egg.

Posted in Main Dish, Me, Sides, Things I Love