November 20th, 2011 by katie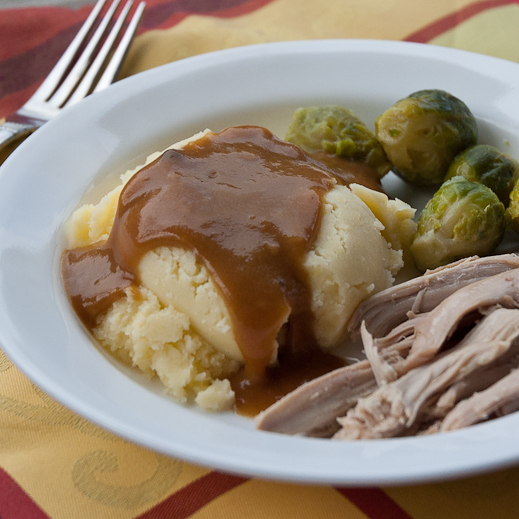 So this spring, chaos in the kitchen will be four years old! And after three official Thanksgiving dinners I have never posted a recipe for mashed potatoes.  Wonder why?  I suck at mashed potatoes.  I make the worst mashed potatoes you've ever had.  Without fail.  It's OK.  I am at peace with my failures.  My mom makes great potatoes and so does my best friend.  So I get to enjoy good mashed potatoes on a regular basis and pretty much quit trying.  Except this year I got a new stove.  This year, I am going to cook Thanksgiving dinner.  So this year I figured I better try again.
Here is my problem and the way you can avoid it:  I don't cook my potatoes long enough.  Every recipe you've read says to cook the stupid potatoes until you can pierce them with a fork.  Yeah well, then cook them some more.  Because if you stop at I-can-pierce-them-with-a-fork-so-they-must-be-done you are gonna have some lumpy potatoes.  Trust me. 
Mashed Potatoes
serves 8, prep 15 min, cook time 45 min
5lb bag of potatoes, preferably gold
salt
1/2 cup cream
1/2 cup butter
Wash, peel, and chop potatoes into equal sized chunks.  Mashed potatoes with peels taste like laziness so do it.
Place potato chunks in a pot and cover with cool water.
Heat pot over high until boiling.  Toss in some salt.
Boil potatoes at least 30 minutes or until they break apart when you try to pierce them with a fork.
Meanwhile add cream and butter in a small pot and heat but do not boil.
Drain potatoes in a colander and then dump potatoes back into your hot pot over low heat.
Using a potato masher or a hand blender (you know how you like your potatoes) begin smashing up potato chunks.
Add hot cream mixture as desired to smooth potatoes.  Salt to taste.
I have also always relied on packet gravy because homemade gravy was just so hard.  Although now that I've actually made it, it's not really difficult.  You can use all stock if you don't have any drippings.
Homemade Gravy
makes 5 cups, cook 15 min
6 cups pan drippings plus turkey or chicken stock
6 tbsp butter
1/2 cup flour
salt and pepper
Remove turkey and stuffing bits from roasting pan.  If turkey is unstuffed, tilt turkey so that cavity juices run into pan.
Pour any pan juices through a sieve into a large fat separator or measuring cup.
Set roasting pan over two burners and add 1 cup of water.  Heat to boiling and scrape up all the bits and loosen everything in the pan.  Pour mixture through a strainer into the fat separator or measuring cup.
Pour juices into a measuring cup leaving the fat in the separator.  If you don't have a separator then place juices in the freezer for ten minutes and then scrape off the fat that comes to the top.
Add enough turkey or chicken stock to the juices to make 6 cups.
In a saucepan, melt butter over medium heat.
Sprinkle flour over melted butter and cook, whisking, until golden.
Add stock mixture in a slow stream, whisking constantly.  Bring to boil, whisking occasionally.
Simmer until thick then turn down heat and keep warm, stirring occasionally.  Season mixture with salt and pepper.

Posted in Sides