June 7th, 2012 by katie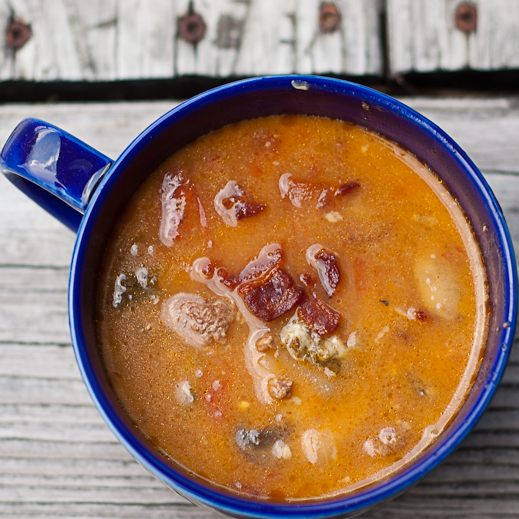 It's not particularly soup time of year but sometimes you just have a craving that demands fulfillment.  If you spend any time at all on Pinterest then you know a perfectly unseasonable craving can hit any time.  Luckily Glad® sent me a case of their new Freezerware™ containers so I could entertain my weather inappropriate craving.  Now I can have my soup and put away the rest for later too. 
Bacon Mushroom Swiss Burger Soup
serves 6, prep 15 min, cook 50 min, adapted from
Life in Grace
6 oz bacon, chopped
8 oz mushrooms, sliced
2 lb ground sirloin
1 onion, chopped
4 cloves garlic, minced
2 jalapenos, chopped
1 can (14.5 oz) fire-roasted tomatoes
1/3 cup ketchup
2 tbsp yellow mustard
4 dashes Worcestershire sauce
2 tbsp honey
12 oz beer
6 cups chicken stock
2 cups kale, chopped
8 oz Gruyere, shredded
salt and pepper
In a large stockpot over medium cook bacon until crisp and browned.  Remove to a paper towel lined plate with a slotted spoon.
Add mushrooms to bacon fat and cook until browned. Remove to a separate plate.
Add sirloin, onion, garlic, and jalapenos to the pot and brown.
Add tomatoes, ketchup, mustard, Worcestershire, honey, beer, and chicken stock.  Bring to a simmer.
Add kale and simmer 30 minutes or until kale is softened.
Remove soup from heat and stir in cheese.  Taste and season with salt and pepper.
Allow soup to cool to room temperature then ladle into small sized freezer containers in 2 cup portions.
Freeze.  Reheat gently in the microwave anytime a craving hits.
If you're interested, you can get coupons for Glad® products and share recipes or meal planning tips for a chance to win prizes on the Glad® Facebook page.
Here's a list of many of the freezer-ready recipes on chaos in the kitchen!

Posted in Main Dish