December 27th, 2011 by katie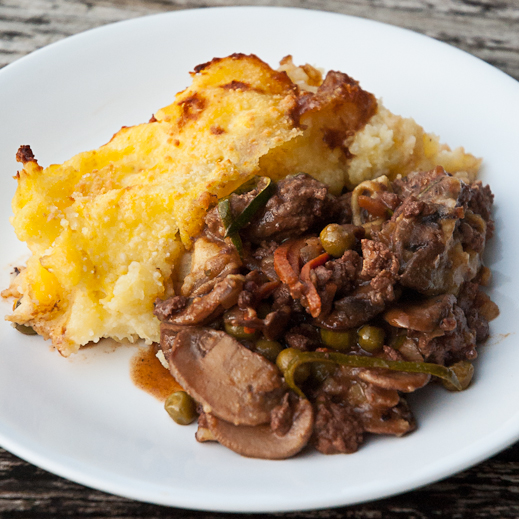 My mom's Shepherd's Pie is one of my favorite recipes from childhood.  Every now and then she makes a few small pies and gives me one to heat up on a busy weeknight. I am always thrilled to dig beneath the warm potatoes to the tender beef and vegetables.  She is the one who actually turned me on the the Shepherd's Pie at the Cheesecake Factory-one of our favorite restaurant dishes.  It's luxurious and rich with mushrooms and zucchini and an amazing gravy.  Our quick, easy version doesn't hold a candle to it.
I don't typically make Shepherd's Pie myself but I have always wanted to re-create that rich, meaty pie from the Cheesecake Factory.  I think I may have actually stumbled upon an even better recipe.  It's not a quick dish but it's not hard and once you've got it in the baking dish you can refrigerate it or freeze it until you are ready.  It's a good long, slow weekend dish: one that takes some time but gives you plenty of delicious leftovers for the week. 
Shepherd's Pie
serves 8, prep 20 min, cook 40 min
2 tbsp oil, divided
12 oz white mushrooms, sliced thinly
8 oz red wine, divided
1/2 cup carrots, julienned
1 large onion, diced
2 cloves garlic, minced
1 lb ground lamb or beef
3-4 sprigs fresh thyme, minced
1 cup frozen peas
2 tbsp butter, divided
2 tbsp flour
2 tbsp tomato paste
2 tbsp Worcestershire sauce
1 cup chicken or beef stock
2 medium zucchini, julienned
salt and pepper, to taste
6 cups mashed potatoes (6 medium yellow potatoes, 4 tbsp butter, 1/2 cup cream)
1 egg, beaten
2 tbsp Parmesan cheese, grated
If you happen to have left-over mashed potatoes skip to step 2.  Boil diced potatoes in salted water until soft, about 30 minutes.
Pre-heat oven to 400F. Butter a large casserole dish.
Meanwhile in a large skillet, heat 1 tbsp oil over medium-high heat.  Add sliced mushrooms.  Saute mushrooms until soft and brown.  Add 2 oz red wine to the hot pan, stirring and scraping the pan.  Remove mushrooms to a plate.
Wipe out the pan and add the remaining 1 tbsp of oil, heat to medium.
Saute carrots until beginning to soften, then add onion and garlic.
When onions are soft add ground meat and brown, breaking meat into large chunks.
When meat is browned, season with salt, pepper and thyme.  Add mushrooms, peas and 1 tbsp butter.
Sprinkle mixture with flour and stir.  Then add tomato paste, Worcestershire, and remaining 6 oz wine.
Cook and stir mixture for several minutes.  Add stock and simmer until sauce is thick and somewhat reduced.
Remove from heat and stir in zucchini.  Season to taste.
Pour meat mixture into the prepared casserole.
Drain and mash potatoes with butter and cream as needed.
Spoon mashed potatoes over meat and spread and smooth the top. (At this point you can refrigerate or freeze the dish as desired.)
Brush potatoes with a beaten egg and sprinkle with Parmesan.
Bake casserole 20-30 minutes or until hot and bubbling and potatoes are browned.  Cook time will be longer for a cold dish.

Posted in Main Dish, Things I Love