November 25th, 2011 by katie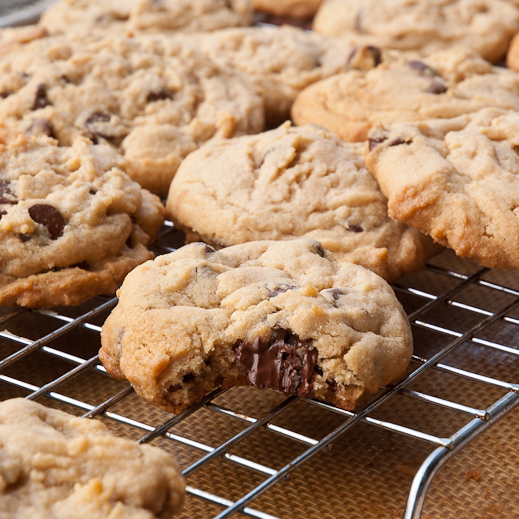 I can't believe how quickly the weeks go by.  Can you remember when we were kids and a summer was a lifetime?  I can't believe that Thanksgiving is already over and we only have five weekends left for Christmas baking!  When Nestle offered to send me a baking kit for an afternoon of baking with my kids I jumped at the opportunity.  With five days of work, laundry, homework, dishes, and general family maintenance, afternoons baking with the kids has fallen somewhat by the wayside.  Alas, there is nothing quite like a deadline to remind us all to stop for a minute and just bake with the kids.
I always use Nestle's semi-sweet chocolate chips in my cookie recipes because I love the just sweet enough dark chocolate flavor and there are always coupons in the paper.  It's a win-win.  The first recipe that came to mind for this particular afternoon of baking was Nana's peanut butter chocolate chip cookies because they use our favorite Nestle chips and because I have been meaning to add them to our recipe collection forever.  Here is Addie showing us how excited she is to be baking instead of watching TV!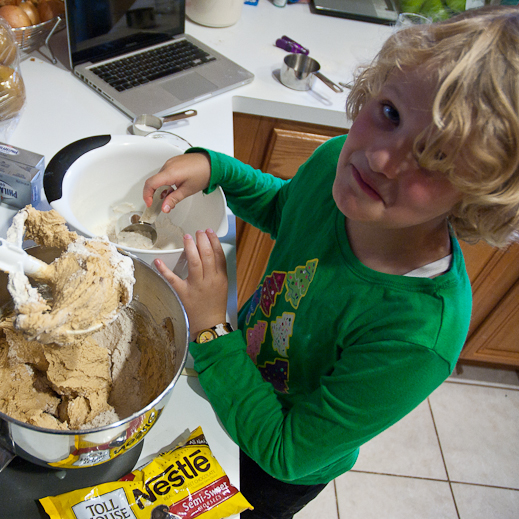 These cookies are delicious: sweet and salty, with a hint of peanut butter and melty semi-sweet chocolate-seriously, are you ready for some cookies or what?  Nana made this recipe for mrChaos as a kid and re-named them Addie's favorite when she was little.  It is hard to measure an exact yield because so much of the dough and freshly baked cookies disappear before you can get an accurate count.  It makes a lot, these were big cookies and we had close to three dozen.  Thanks to the new stove, I actually was able to bake more than one tray at once so we were able to get a jump on the cookie thieves. 
Addie's Favorite Peanut Butter Chocolate Chip Cookies
makes 3-4 dozen, prep 20 kid minutes, bake 10-13 minutes
2 1/2 cups flour
1/2 tsp salt
1/2 tsp baking soda
1 cup butter, softened
1 cup peanut butter
1 cup white sugar
1 cup brown sugar, packed
2 eggs
1 (12 oz) bag semi sweet chocolate chips
Preheat oven to 375F.
Stir together dry ingredients and set aside.
In a large bowl, mix together butter and peanut butter.
Add both sugars and cream well.
Beat in eggs until fully incorporated.
Slowly beat in flour mixture until just combined.
Fold in chocolate chips.
Drop dough from rounded teaspoons onto cookie sheets
Bake 10-13 minutes, allow cookies to cool on the sheet for 2 minutes.
Remove cookies to a cooling rack.  Watch them disappear.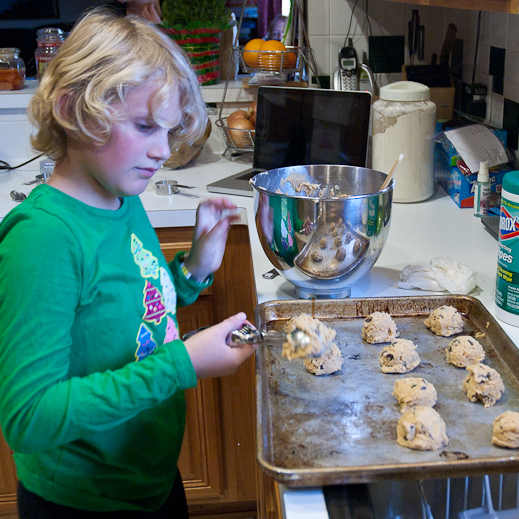 Posted in Cooking with Kids, Desserts