July 17th, 2011 by katie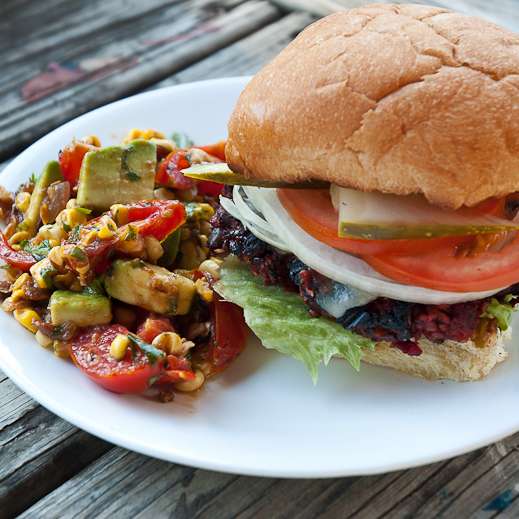 One of the best aspects of our newly food-centric world is that we have so many categories of burgers.  We enjoy chipotle turkey burgers and Thai shrimp burgers and any kind of burger you can imagine-and none of them trying to be the same thing.  Real veggie burgers-burgers made of beans and grains and vegetables, not at all trying to be imitation beef burgers-are hard to come by.  Houston's (now Hillstone's) restaurant has a great one.  Consisting of black beans, brown rice, oat bran, and veggies, it's not trying to be a beef burger.  Yet it is chewy and hearty and savory and sweet and so much more than just a veggie burger.  It doesn't hold together in a perfect patty, with imitation grill marks, so if that's what you are looking for then I suggest the freezer aisle.  I wanted to re-create this infamous burger and apparently a lot of other people on the webs did as well.  I found several recipes that gave me a good jumping off place and this is my interpretation from there.  It is a work in progress and if you decide to try them let me know what changes you make in the comments.
This is not a patty that holds together perfectly but it holds together well enough to grill, if you work carefully.  As written below it is vegan but many people add an egg or egg white to help it hold its shape.  The restaurant's burger is vegan and I found that chilling the patties for a few hours before grilling helped them hold their shape without the egg.  A thick slice of Monterrey Jack helps it hold together as well (at least until you get it on the bun).  I used a 1/2 cup of finely diced beet which is clearly way more that the restaurant's burger, and several testers felt the burger was too beety, so I have reduced it below to 1/4 cup. 
Black Bean and Brown Rice Veggie Burgers
makes 4-6 burgers, prep 15 min, chill 1 hour +, cook 10 min, adapted from
food
.
com
2 tbsp soy sauce
2 tbsp honey
2 tbsp molasses
2 tbsp hoisin
1 1/2 cups cooked brown rice (1/2 cup uncooked)
15 oz can black beans, drained, rinsed and diced
1 tsp butter
1/2 onion, minced
5 cloves garlic, minced
1/4 cup beet, finely diced
1/4-1/2 cup oat bran
2 seeded jalapenos, minced
6 prunes, minced
1 tsp salt
1 tsp ancho chili powder
1 tsp smoked paprika
cracked pepper
1 tsp cumin
4-6 slices Monterrey Jack cheese
In a small bowl combine soy, honey, molasses, and hoisin to make basting sauce.
In a large bowl combine diced black beans and cooked rice.
In a skillet, melt butter over medium heat.  Saute onions and garlic until soft and the pan is dry.
Add onions, beet, 1/4 cup oat bran, minced jalapeno, minced prunes, and spices to bean mixture.  Stir to combine.
Evaluate how well your veggie mixture holds into patties.  If the mixture seems too dry or chunky, add basting sauce by the teaspoon until moist enough to stick.  If the mixture seems too wet, add a bit more oat bran.
Shape veggie mixture into 4-6 patties and place on squares of wax paper.  Chill patties at least one hour.
To cook, brush patties with basting sauce and place on a hot grill or skillet.  Cook about 5 minutes then bast again and gently flip.
Cook about 5 more minutes and cover with cheese if using.  Cook until cheese is melted. Gently remove burgers to serving plate.
Serve with your favorite burger toppings on toasted buns.
The basting sauce is essential for helping the burger get a nice char on it but it will burn if you are not careful.  Pictured above is also our favorite corn salad.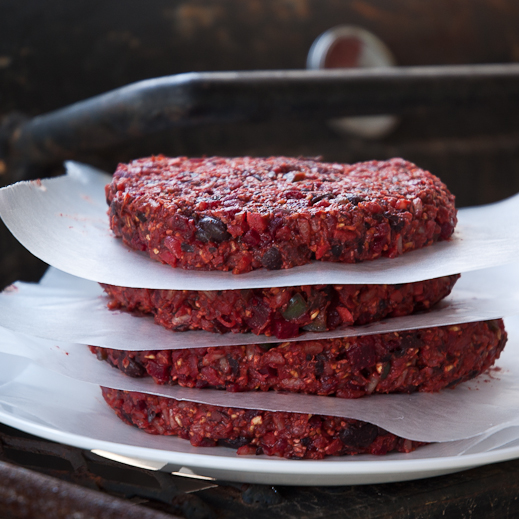 Posted in Health/Nutrition, Main Dish