October 15th, 2010 by katie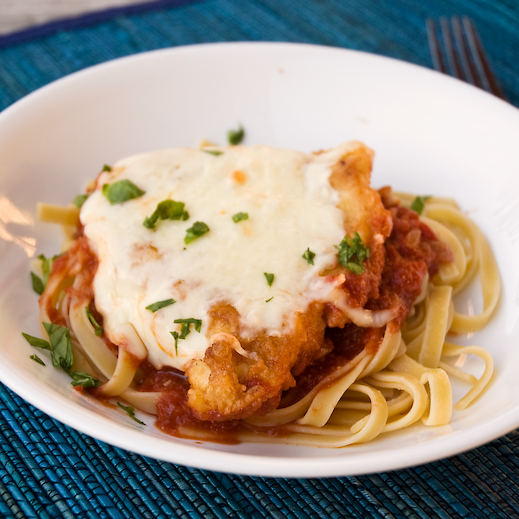 We have never been ones to eat the same meals every week, or even every month.  In fact, a lot of our repeat meals are seasonal traditions that we enjoy every year-once or twice a year.  That is one of the reasons I can post so many recipes here.  The disadvantage to that is some of these easy family pleasing weeknight meals get lost in the shuffle.  Chicken Parmesan is one of those meals-it has something for everyone and doesn't take too much time to put on the table.  Made with your favorite jarred marinara sauce it is even faster but any good spaghetti sauce recipe will work (just leave the meat out) like this one or this one.  If you can manage to have leftovers they make great sandwiches the next day!
Chicken Parmesan
serves 4-6, prep 20 min, cook 40 min
4 cups marinara sauce
3 large chicken breasts, trimmed of all fat, about 2 lbs
2 eggs
2 cups flour
salt and pepper
oil or shortening for frying
lemon
Parmesan cheese, grated
8 oz mozzarella cheese, shredded
fresh parsley
spaghetti or fettuccine noodles, cooked
Preheat oven to 350°F.  Pour marinara sauce into a large baking dish.
Place a chicken breast inside a large plastic bag and pound out until thin and even, being careful not to tear holes in it.
Cut the breast into two even pieces.  Repeat with remaining breasts until you have 6 large flat chicken cutlets.
In a bowl, whip eggs until combined.
In a separate bowl or dish combine flour with salt and pepper.
Dip each cutlet in flour until coated, shaking off excess.
Then dip in egg allowing excess to run off.
Then coat in flour again and set aside.  Repeat with all cutlets.
Heat about 1 inch of oil or shortening over medium high heat and fry cutlets in batches, flipping, until golden brown on both sides.
Place fried cutlets in marinara sauce, squeeze lemon juice over all and sprinkle liberally with Parmesan.
Top each cutlet with a small pile of mozzarella then bake until cheese is melted, about 10 minutes.
Sprinkle with chopped parsley and serve over spaghetti or fettuccine.