September 13th, 2010 by katie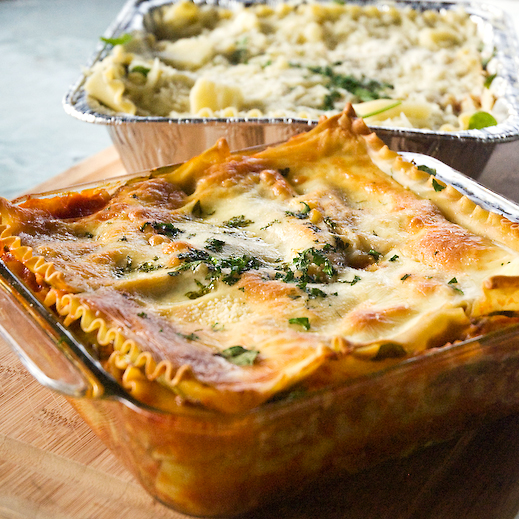 My freezer and I have a long history.  I like to keep it stocked with quick snacks, pre-made meals, and prepped ingredients so that when I don't feel like cooking-or when it is just mrChaos and the kids for dinner-we can still have delicious, homemade food.  Over the last few years I have posted many freezer ready recipes and I will point them all out to you and explain the best way to prep each one later in the week.  Today,  I want to point out my favorite tip for getting quick, easy meals into your freezer: make two.  If you are going to make one, you might as well make two, right?  Or three or four, even.  But we'll start with the basics, making two.
Macaroni and cheese, tetrazzini, lasagna, most casseroles, in fact, freeze really well.  It is probably the one thing standing between me and becoming a full-time Once-A-Month-Cooking-er.  We just don't eat a lot of casserole type dishes.  Luckily, OAMC can be so much more than a bunch of frozen casseroles-which is what I aim to show you this week-but it helps if your family likes casserole-type dishes.
First, be realistic about how much your family eats.  With garlic bread and a side salad, we rarely put much of a dent in your typical 13×9 sized casserole and we don't eat much leftover, either.  For us, it generally works to split a normal recipe into two 8×8 pans (although keep in mind 8×8 is slightly larger than 13×9 so you may have to adjust the recipe slightly).
If an 8×8 is too little for you, or you like leftovers, simply double the recipe and make two 13 x9 pans.  Likewise, if even an 8×8 is too much for you, make several mini casseroles in loaf pans or even muffin cups.
I like to buy disposable oven-ready pans specifically for this purpose but you can also line your casserole dish with foil, fill it and freeze it, then lift it out of the dish, and store it.  Simply remove the foil and pop it back in the same dish to thaw or cook.
Most frozen casseroles can be baked from frozen, just anticipate a longer baking time and cover the top if it is getting too browned before the filling is hot.
This basic meat sauce is also a great recipe for OAMC.  If you are making a batch, consider tripling it.  Then you will have enough for two small lasagnas, two small spaghetti casseroles, and enough left over to freeze for a spaghetti night as well. 
Basic Meat Sauce for Spaghetti or Lasagna
serves 12-16, prep 15 min, cook 30 min
1 lb ground beef
1/4 lb Italian sausage
1 green bell pepper, diced
1 onion, diced
8 oz mushroom, thinly sliced (optional)
2 cloves garlic, minced
6 oz tomato paste
30 oz tomato sauce
1/4 cup Parmesan cheese (optional)
1 tbsp sugar
1 cup pasta water
salt to taste
In a heavy stock pot or dutch oven, brown meats over medium heat.  Break up the meat into smaller pieces with a wooden spoon while browning.

Stir in pepper, onion, mushrooms, and garlic and cook until vegetables soften.
Stir in tomato paste and cook a couple of minutes.  Add tomato sauce, cheese, and sugar.
Simmer until ready to serve/use.  Before serving add 1 cup of water from the pasta pot (or more as needed to thin sauce).  Taste sauce for seasoning and add salt to taste (do this last, especially if your pasta water is salted).
One your sauce is ready, you can build your lasagnas.  Bake one and freeze one.  Don't forget the garlic bread-you can throw it in the oven while the lasagna rests.
Basic Meat Lasagna x2
makes 2 8×8 pans or 1 13×9, prep 15 min, cook 45 min fresh
1 lb lasagna noodles
16 oz small curd cottage cheese
2 eggs or 1/2 cup mayonnaise*
2 tbsp fresh parsley, chopped, plus more for garnish if desired
1 recipe of meat sauce (above)
8 oz fresh spinach or 10 oz frozen spinach, thawed and squeezed(optional)
16 slices or 1 lb mozzarella
Parmesan cheese
Cook lasagna noodles until slightly under done in a large pot of salted water.  You will probably not use all of these noodles but I always run out if I don't just make the whole thing.  Yes, you can also use no-boil noodles.
In a medium bowl, stir together cottage cheese, eggs (or mayo), and parsley.
Heat oven to 350°F.  Grease two 8×8 pans or a 13×9 pan.
Spoon a small amount of meat sauce into the bottom of each dish and layer noodles over the sauce, cutting and overlapping as necessary to cover the whole area.
Top that with a layer of cottage cheese, about 1/4 of the mixture in each dish.
Top that with a thin layer of spinach leaves.
Spoon about 1/4 of the sauce over the spinach. Repeat with second dish.
Top this with four slices of mozzarella, evenly spaced, in each dish.
Top each dish with more noodles, then the last of the cottage cheese, spinach, and meat sauce.
If you like crunchy, browned noodle bits then top with an additional noodle layer, or skip it, and then top with the remaining mozzarella cheese slices.

Sprinkle lightly with chopped parsley and Parmesan cheese.

Bake one casserole for about an hour, if the cheese gets too brown simply cover with foil (spray one side with oil so your cheese doesn't stick).
Freeze the second casserole.  Once hard to the touch you can cover it with plastic wrap, pressing the wrap directly against the surface.
When ready to bake it simply place it frozen in the oven and turn the heat up to 350°F.  It will take about two hours to heat all the way through, but check it often and cover the cheese when it gets nice and browned.
* Did you say a 1/2 cup of mayonnaise?!  Yes I did.  And seriously, seriously, it is the best lasagna filling you will ever taste.  I have won over many lasagna-haters with this filling.  People gobble it up and ask for seconds.  Even my mother who hates mayonnaise has seconds (of course, now that she knows what's in it she won't eat it ever again-but still).