August 20th, 2010 by katie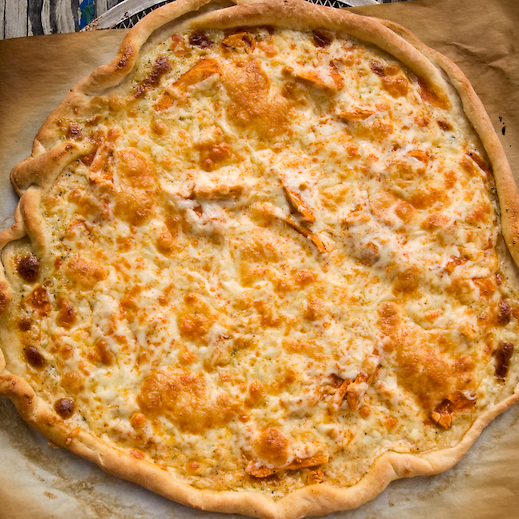 I have a confession: I love buffalo chicken pizza.  It is such a non-traditional pizza topping yet I totally crave the combination of hot, saucy chicken bites smothered in cheese and cooled with ranch dressing.  You can make this pizza as easy or as complicated as you like.  Make your own dough and dressing or buy them pre-made.  Quickly cook a single chicken breast or use about a cup of left over chicken bits.  You can even sub blue cheese dressing or add a sprinkle of blue cheese crumbles and sliced green onions to the top before serving.  Personally, I like this pizza simple but feel free to gussy it up to your tastes. 
Buffalo Chicken Pizza
prep 30 min, cook 15 min
1 large pizza crust
1/4-1/2 cup thick ranch dressing
1 (8 oz) chicken breast, cooked, sliced thinly
1 cup buffalo wing sauce, like Frank's
2 cups mozzarella cheese, shredded
Spread pizza crust with ranch dressing.
In a small bowl, combine hot sauce and chicken pieces.
Spoon chicken evenly over crust and drizzle with remaining sauce as desired.
Sprinkle shredded cheese evenly over the top.
Bake pizza at 500°F for about 15 minutes or until cheese is browned.