August 10th, 2008 by katie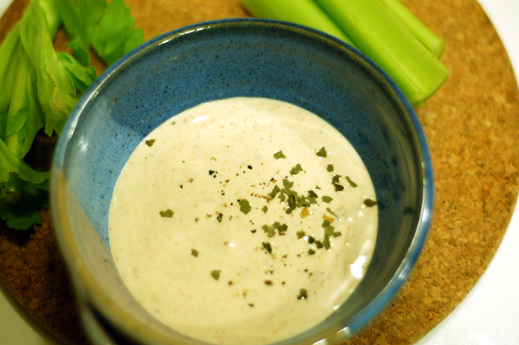 We're getting into that ridiculously hot stretch of summer. The last couple of weeks before school starts: when the heat is so oppressive that the thought of eating anything not straight from the refrigerator turns the stomach a bit. To combat this, I've been experimenting with salads and homemade salad dressings (that and trying out the few new restaurants in town).
This dressing is an easy way to make plain old ranch a lot more exciting. It is flavorful and slightly spicy with a nice thick, yet pourable consistency. Delicious on salads, it is also a great dip for chicken fingers or oven fries. I would love to make it totally from scratch one day. This makes me feel fancy enough for now though, I mean I am stirring the ranch mix into the mayonnaise. That's from scratch, right?
Kicked-up Ranch Dressing
makes 1 1/2 cups, prep: 5 min, chill: 30 min +
1 cup mayonnaise (any substitutions at at your own risk! Light mayo would work fine but miracle whip-I think not.)
1 0.4 oz buttermilk ranch dressing mix packet (about 1 tbsp mix)
1/2 tsp coarse ground black pepper
1/4 tsp paprika
1/4 tsp garlic powder
1/2 cup milk, any kind
dash tabasco sauce
Combine all ingredients, mixing well.
Don't bother tasting it at this point, it will be thin and bland. Just put it into a seal-able container and put it in the fridge to chill at least 1/2 an hour.
Now taste it and adjust seasonings as needed. Like magic, it should have thickened up nicely and the flavor will be really punched up.
Calories per tbsp: 42
I like to serve this simply over a green salad with homemade croutons and a sprinkle of Parmesan cheese.

Posted in Condiments, Easy, Salads